UK withdrawal from the European Union Aviation Safety Agency was one of the more incomprehensible aspects of Brexit for the air transport industry, but new Civil Aviation Authority chairman Sir Stephen Hillier is not inclined to ruminate over the wisdom of the decision.
As might be expected from a highly-decorated military officer – Hillier is an Iraq War pilot who reached the rank of Air Chief Marshal and led the Royal Air Force – he is more focused on addressing the state of play on the ground than debating the government thinking which led to it.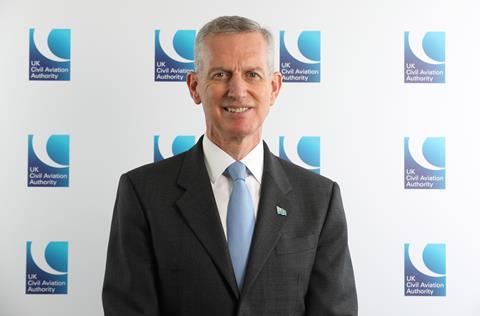 "I think I'd characterise myself as realist and pragmatist," he tells FlightGlobal. "This is the situation we're in. How do we ensure we deal with that situation to best of our ability?
"How can we ensure, as an organisation and nation, that we continue to discharge responsibilities – and continue to be one of leading aviation nations in the world? That's my approach to it."
During former prime minister Theresa May's term in office, a parliamentary industrial strategy committee heavily favoured remaining within EASA. Evidence from aerospace businesses, unions and academia, it said, was "unanimous" in support of continued UK membership.
"Close global regulatory alignment in aerospace has resulted in benefits in terms of safety, the ease of global trade and efficiency, while it is unclear that there are any benefits from divergence at this time," it added. The committee said the UK's influence on aerospace regulation from within EASA was "preferable" to "securing an escape" from European Court of Justice jurisdiction – especially given that the court had, in practice, had "played no role" in EASA's work and had never issued a ruling on an EASA decision.
But the Brexit agreement negotiated by May's successor, Boris Johnson, was founded on full withdrawal from European Court of Justice oversight – and therefore from EASA – forcing the CAA to re-establish itself as a standalone regulator from 1 January, outside of the agency in which the UK had been highly respected.
"We were a very strong contributor to EASA from the start," says Hillier. "Working together across nations, to ensure we have the safest possible environment, has always been one of the things we've been very good at."
The extent of UK involvement and the expertise it provided to EASA meant the CAA had a "very strong foundation already in place" ahead of the withdrawal, he states, including having safety "absolutely covered".
"It's not the case that, over the years, everything to do with our regulatory functions in the CAA was handled by EASA. Particular aspects were certainly handled by EASA – but there remained a very strong core foundation in the UK looking after our national responsibilities," says Hillier.
"Where things were not replicated in the CAA, but were delivered by EASA, we brought those functions back into the CAA. And I'm proud of the way in which we worked up that new capability, in the way we tested it out thoroughly, before [the exit from the EU], and the way we're now implementing it in practice.
"I'm not saying that, on 1 January, every aspect was taken care of to the ultimate extent. It was a foundation. And in the [post-Brexit] period we've been steadily building on that foundation working with other nations to ensure that we can conduct business as efficiently as possible."
The CAA is not aiming to engage in persuasion or leverage with EASA. "It's not for us to run an influence campaign," says Hillier, but adds: "We won't be effective unless we have strong and enduring relationships with EASA – and likewise EASA has to have a strong, effective and enduring relationship with the CAA."
UK pilot union BALPA considers the divorce an opportunity to review controversial rules on flight-time limitations for crews which, it believes, have been "relaxed too far" under EASA.
But while separation from EASA theoretically grants the CAA more freedom to adopt its own regulatory stance, the extent to which it can realistically make changes – given the trend towards harmonisation – is yet to become clear.
Hillier highlights the "practical reality" that the CAA can be "more agile and flexible" because it no longer needs to wait for consensus to emerge within a 28-country circle.
"We don't want to be divergent for divergence's sake," he says. "We're very conscious that, if we are divergent, there is also cost on businesses potentially and we need to be very mindful of that."
But he also believes there is a "balance" to be achieved, to examine possible opportunities while maintaining smooth operations across international boundaries – emphasising that the UK is part of ICAO and that "we shouldn't just see this through a European lens".
Renegade activity is unlikely to find much endorsement in the international air transport sector but Hillier believes certain rapid changes within aerospace present an avenue worth exploring.
"The classic example, I think, is in relation to remote-piloted aircraft systems [RPAS]," he says. "The innovation, the development in those areas is really accelerating.
"It's worthy of note that, throughout the pandemic, the one area where we've seen a consistent growth – in terms of applications for licences, applications for airspace use – has been in RPAS. That has continued to accelerate.
"Against that sort of backdrop I don't think anybody has yet developed the perfect regulatory environment which best ensures the exploitation, the innovation, and which best deals with emerging technologies. I don't think anybody's got that yet.
"Here's an example of an opportunity where we might, as the UK, be able to frame a future in a new area of capability which is genuinely world-leading."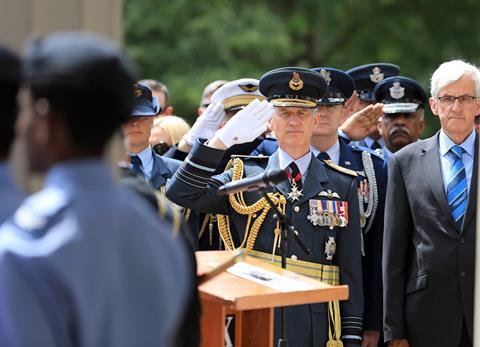 Flexibility and agility, he says, could be a "powerful advantage" for an organisation trying to set standards in a field of new systems demanding new requirements.
Although the final UK-EU post-Brexit agreement meant a 'no-deal' scenario was averted days before the 1 January split, the section on aviation is conspicuously one-sided.
All EASA certificates, approvals and licences which were in effect on 31 December will remain recognised by the CAA for up to two years. But UK-licensed pilots and UK-approved engineers will not be qualified on EU-registered aircraft, and UK-issued cabin crew attestations may similarly cease to be valid.
UK aircraft are also restricted to third- and fourth-freedom services, losing the automatic intra-EU access that came with EU membership. UK users of the space-based EGNOS position-augmentation service, which supports approach guidance for landing aircraft, will lose access in June this year.
"I'm sure that every sector of the economy could look at that foundational document and say, 'I wish it could have included X, Y and Z'. But there are practical limits, particularly in the timelines which were available, to cover every aspect we might have wished," says Hillier.
He acknowledges that "there's not full reciprocity at this stage" and the scale of the negotiation task, given that the UK needs to deal with every EU member while any individual EU state only has to deal with the UK.
"Listening to the sector, and understanding the issues people are experiencing in practice, we've put in a huge amount of effort to work bilaterally with other nations and start to secure the agreements we need to secure," he says.
"That doesn't mean that it's all done. Twenty-seven countries is an issue there. It doesn't mean that we have all of the reciprocity that we might hope for."
But the UK's aim, he suggests, is to forge relationships rather than adopt an intransigent transactional attitude.
"I think taking the view that we are going to be as open as we possibly can befits our status as a leading world aerospace nation," says Hillier, although he cautions that the strategy of being "open and accommodating" should not mean indefinite acceptance. "It has to be time-limited," he says.
New post-Brexit bilateral arrangements were put in place with several countries – among them the USA, Canada, Brazil and Japan – to ensure recognition of safety certificates and support operations, while ICAO membership provides assurances with others.
De-integration from EASA meant bringing two particular roles back within the CAA remit. For state-of-design, some 20-25 people were looking after UK interests in EASA.
"What we needed to do was either bring those individuals back into our system or find people to fit those roles," says Hillier. "It was a mixed response. Some decided to stay in EASA, some didn't. That was their choice."
But the CAA managed to recruit sufficient personnel to have the necessary governance in place by 1 January. The other major role being repatriated is aviation safety policy-making, being handled in conjunction with the Department for Transport.
"Nothing I've seen in the three months [since Brexit] would suggest that we are having any difficulties through a lack of the skills and capacities," says Hillier. "The one sort of caveat that I'll honestly offer is that we're clearly in 'Covid times'."
He says the CAA is aware of the "very low baseline" resulting from the pandemic's suppression of traffic and is concentrating on ensuring that it has capacity to cope as activity picks up during the recovery.
But out of the range of issues the CAA is monitoring, he states, the implication of being outside EASA is "not one that's in any way a concern at this stage – it's just a consideration in there, it's not one that troubles us".
When the government was debating the merits of leaving EASA, it was told during industrial committee testimonies that replicating the European agency's functions would be significantly more expensive than maintaining membership.
UK aerospace trade association ADS Group chief executive Paul Everitt, in November 2017, said the body had estimated the task would involve 200-300 people and cost £30 million ($41 million) annually. "For us, it is very clear that going it alone is the most expensive option and, in most cases, not the most efficient," he stated.
The expense and workload involved in expanding CAA capacity was mentioned by Baroness Jenny Randerson during a parliamentary debate on EASA in March 2020. But the point was countered by Lord Stephen Parkinson, who claimed that the two-year extension to certificate and approval validations would reduce the amount of additional capacity needed by the CAA in the short term, and added that it might not need the full capability if a bilateral agreement with the EU could be reached.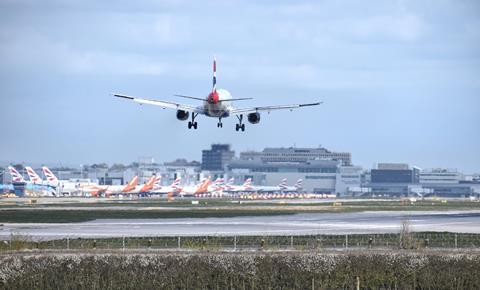 Hillier insists the notion of rebuilding the CAA is misleading. "That would imply we gave all our responsibilities to EASA, and then those responsibilities were coming back, and we had to start from the bottom up and re-do the organisation.
"It certainly isn't that way in structural terms, and doesn't feel like that in practice."
He says the number of people brought back to the CAA, to support the reclaiming of functions handed to EASA in the past is relatively small compared with the CAA's 1,200 employees, about half of whom are within safety and airspace regulation.
"I think that gives a little bit of the sense of perspective here," he says. "We're not rebuilding an organisation. We've just put new wings onto the building rather than come up with the new building itself."
He stresses that this nevertheless has taken "a lot of hard work and planning" and that a successful transition on 1 January was down to the effort and resources devoted over the previous four years.
And while Brexit might technically be over, the work to establish the CAA in the post-Brexit arena – with its blend of considerations on regulation, sustainability, innovation, relationships and Covid recovery – is only beginning.
"[We're not] saying we've all those bases covered, in a way that we're satisfied [will] take us through the next 10 years. No organisation can say it's covered," he says.
"For about the last year now, we've been working on what we would say is defining the 'CAA of the future'. What sort of organisation do we want to be? What will our responsibilities be, and how are we going to do our business?
"That work is now coming to maturity and essentially laying out CAA strategy, taking us through the next 10 years."
This strategy aims to combine core objectives with a sense of direction, while emphasising flexibility, he says: "Because we might think [we know] what the world's going to look like over the next 10 years but it's probably going to be different from what we planned."
Hillier says the CAA hopes the strategy will be "transparent" to both its consumers and customers. "This is about doing what I think our customers, and those we regulate, want: ensuring that we are the most efficient and effective CAA for the future," he states.
"So this is under-the-bonnet activity that we need to do. I'm really enthusiastic about the progress that we're making, particularly in areas like sustainability. Aside from the recovery from Covid – and let's not underestimate that – getting to grips with sustainability, in all of its respects, all those sort of things I think are really exciting and challenging as well."
The realm of the future CAA, he adds, will not be limited to airspace. With legislation in progress to allow for CAA oversight of commercial spaceflight technologies, from vertically-launched vehicles to sub-orbital aircraft, space regulation is "part of the exciting journey", says Hillier.
"I would hope the CAA's calling-card continues to be that we're seen as a world-class regulator, that we have the skills and capabilities and experience to offer that others would find attractive," he says.
"We're a learning organisation. Working with others increases our learning. We learn from our dealings with other nations. By offering out our product, if we can be part of enhancing aviation safety across the world then, absolutely, we have not only the desire but the duty to do that."