Mock-up displayed at MAKS, but developer hopes to have single-propeller utility aircraft in service by 2023
Seventy-five years after the development of the Antonov An-2 biplane, the latest potential successor to a type that remains operational around the world has been unveiled at MAKS.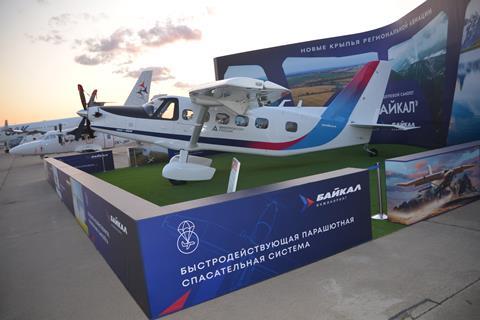 A mock-up of the single-turboprop LMS-901 Baikal light utility aircraft, from the Urals Civil Aviation Plant (UZGA), was among the exhibits presented to President Vladimir Putin when he toured the show on 20 July.
Russia's minister for industry and trade Denis Manturov says the project began seven years ago and the intention is to have the aircraft in service by 2023.
The design includes a "high-speed reaction system for passenger rescue" that comprises a detachable cabin section and parachutes. Another safety feature is an auxiliary electric propulsion system to the primary Klimov turboprop engine.
Maximum take-off weight will be 4.8t and it will have a top speed of 162kt (300km/h), a range of 1,620nm (3000km), and payload of 2,000kg (4,410lb).
Russian authorities limit single-engine aircraft to nine passengers, but Manturov hints that a later variant could be developed that seats 14, a similar capacity to the Cessna Grand Caravan.
Two hybrid electric-powered versions of established light aircraft platforms are also displayed at MAKS. A SuperOx electric motor has been fitted to a Yakovlev Yak-40, whose Klimov TV2-117 will function as a power generation unit. Meanwhile, an An-2 has been adapted with eight pods on the lower wing, each with foldable propellers for electric power generation to use as back-up for the turboprop. Both testbeds have been developed by the SibNIA academy in Novosibirsk, with the projects funded by the Russian government.
Manturov says the efforts have the backing of Putin. "Our goal is to make passenger transport on short domestic routes safer and more environmentally friendly in the 2035 timeframe," he says.