Israel Aerospace Industries is to set up a landmark freighter conversion line for Boeing 777-300ERs in the United Arab Emirates, tightening the new diplomatic ties established between the two countries last year.
The new conversion line will be established in Abu Dhabi under a co-operation agreement with Etihad Engineering.
IAI says the centre, which will also serve as a maintenance facility, will help supply the "global rise in demand" for the new conversion programme. The company has recently commenced modification of the first example of the 777-300ERSF at its Tel Aviv operation.
Chief executive Boaz Levy says the diplomatic recognition agreements – known as the Abraham Accords – signed last year between Israel and several Arab states have given IAI the chance to expand to the Gulf.
He says the new conversion line in Abu Dhabi is a "testament to IAI's strong ties with the UAE", adding that it "strengthens its foothold" in the region.
Etihad Engineering says it will "facilitate" two conversion lines, able to handle "multiple" conversions per year.
It states that cargo operations have been helping to offset airlines' losses during the air transport crisis triggered by the pandemic. "Industry forecasts show an increase in demand for widebody freighter aircraft with long-haul capacity," it adds.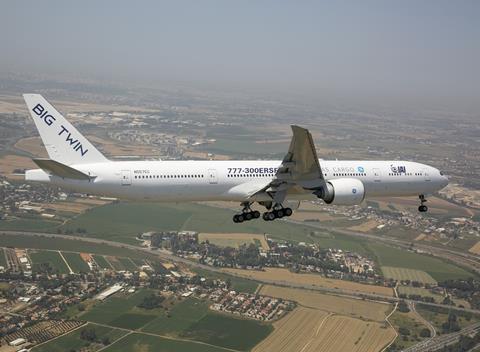 Etihad Aviation Group chief executive Tony Douglas says the 777-300ERSF is "extremely attractive" to customers.
"Not only do we see the demand, but we view it as a greener, more profitable, highly innovative solution for our airline customers," he adds.
Etihad Engineering chief Abdul Khaliq Saeed adds that the partnership with IAI will "maximise the potential" of the Abu Dhabi company's workforce.
IAI is developing the 777-300ERSF conversion under a co-operation agreement with US lessor GECAS, and it believes there is initial demand for at least 50 aircraft.
The Israeli firm has already agreed to set up a conversion line for the type in the South Korean capital Seoul.
IAI Aviation Group general manager Yossi Melamed says the Abraham Accords have opened the way to meeting Etihad Engineering's personnel and exploring the company's skills and capabilities in aircraft maintenance.
"The agreement we signed adds a significant tier to the relations between Israel and the Gulf states," he says.
"I have no doubt, following this agreement, additional agreements with companies in the region will arrive, and they will economically benefit the sides involved."