Israel Aerospace Industries is set to establish a US-based Boeing 777-300ER freighter conversion line in Arizona from next year.
The company has reached a 15-year agreement under which Ascent Aviation Services will carry out the modification work on the twinjet type at its facilities in Marana.
Two lines of 777-300ER conversions will be implemented and Ascent will build two widebody hangars to support the programme. Pre-construction work on the hangars is underway.
IAI has been developing the 'Big Twin' conversion programme for the aircraft, designating the freighter as the 777-300ERSF, and has plans to set up a number of modification sites for the type.
The first -300ERSF carried out its maiden flight from Tel Aviv in March this year.
IAI chief executive Boaz Levy says the agreement with Ascent "underscores the confidence" that it has in the US firm's ability to meet the required timetable, and carry out the first conversion next year.
"[It] represents a strong direct continuation of the many successful collaboration agreements already existing between IAI and US companies," he adds.
IAI says it expects to secure certification of the freighter from the US FAA as well as the Israeli civil aviation regulator this year. It states that the process is "in the final stages".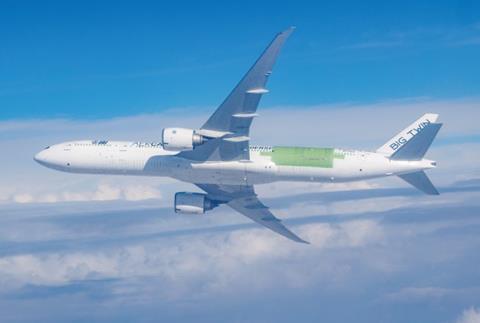 Powered by General Electric GE90 engines, the 777-300ERSF will be able to transport payloads of up to 100t.
"Setting up passenger-to-freighter conversion remote sites around the world is required due to the expected demand for widebody freighter aircraft capable of long-haul flights," says IAI.
Marana is located about 40km northwest of Tucson.
Ascent chief executive David Querio says the collaboration with IAI will bring "lasting growth" to the aviation community in the Tucson area.
He says the company, which specialises in commercial aircraft maintenance, will expand its capabilities to host up to three widebody aircraft, and the agreement will bring "stability" and "hundreds" of high-skilled jobs to the region.
"This additional diversification of our offerings continues Ascent down our journey to become the world-class MRO of choice for our customers," he adds.