United Engine's Klimov division aims to produce several powerplants this year for Ilyushin Il-114-300 high-speed flight testing.
Russian federal air transport authority Rosaviatsia has recently approved the Klimov TV7-117ST-01 engine for operation at altitudes of 6,000m (19,700ft) and speeds up to 297kt.
This is the regime for the next planned stage of flight testing for the Il-114-300, a modernised version of the Il-114 twin-turboprop.
Klimov general designer Vsevolod Eliseev says it is providing six more powerplants for the programme – two initial standby engines for the flight tests, and four more for further tests by the end of the year.
"Based on their results, a decision will be made to start serial production," says the company.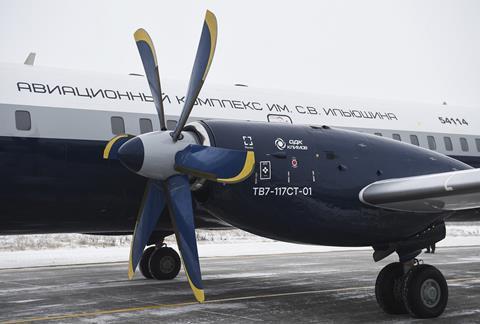 Rosaviatsia certified the TV7-117ST-01 in December last year, after the manufacturer completed 150h of testing the previous month.
The engine can deliver take-off propulsion of 3,100hp, according to Klimov, and has "best-in-class fuel efficiency".
It features a digital engine control and works in combination with a six-bladed AB112-114 propeller.
United Engine is developing a derivative of the powerplant, designated the TV-117ST-02, which is intended for a new regional twin-turboprop, the UZGA TVRS-44 Ladoga.