Russian aerospace developers intend to use the Ilyushin Il-96 as a testbed for the high-thrust Aviadvigatel PD-35 engine.
The powerplant is being developed for potential large transport aircraft, and the Russian government recently allocated over Rb44 billion ($575 million) to the programme.
Deputy trade and industry minister Oleg Bocharov, speaking during a 20 January visit to Voronezh's VASO aircraft plant, said the Il-96's wing will enable the aircraft to be used as a "flying laboratory" for testing the PD-35, which will have a thrust range of 235-490kN.
Bocharov says the latest version of the four-engined widebody, the Il-96-400M, would carry out its first flight by the end of this year.
"It has enhanced capabilities due to the stretched fuselage and the use of design solutions for installation of advanced engines," he says, adding that the aircraft has upgraded avionics and can be configured with a passenger-cargo layout to address the need for "hybrid transport" on transcontinental routes.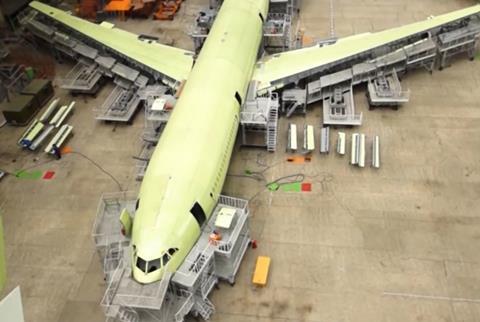 Bocharov briefly referred to another Rb2 billion of investment to be allocated "in the near future" for two more "significant projects", including the development of a long-range widebody aircraft.
He did not elaborate, although Russia and China have been jointly working on the proposed CRAIC C929 long-haul twinjet, for which the PD-35 is viewed as a potential powerplant.
Bocharev says the other project identified for the investment is the Ilyushin Il-114-300, a modernised turboprop intended to replace Antonov An-24s, as well as Yakovlev Yak-40s and even certain foreign types including ATRs.
He adds that the 68-seat Il-114-300 should receive its type certificate next year, and that its manufacturer plans to supply up to 100 aircraft by 2030, at a build rate of a dozen per year.
Russian prime minister Mikhail Mishustin, speaking during the same event, declared that the government's aim is to reach a 30% share of domestically-built aircraft in the fleets of the country's largest airlines by the end of the decade.
"Developers and manufacturers of Russian aircraft are doing extensive work in the field of on-board systems and equipment that meet the most modern requirements, and have made significant progress," he says.
Mishustin states that the country's industry wants to achieve "complete technological independence" from imported materials and components.
"Solving this problem will allow us to remove possible risks for the development of this important industry [and] eliminate delays in bringing new-generation aircraft to the market," he says.
Russia's government has approved a programme of orders for domestically-built aircraft to 2030, he adds, providing for the supply of 583 airframes. Mishustin says he expects civil aircraft construction over the next five years will exceed the rate of 100 aircraft per year.