Russia's air transport regulator has accepted applications to approve major structural changes to the Irkut MC-21, centred not only on the installation of Aviadvigatel PD-14 engines but also the use of domestically-produced composite structures.
Rosaviatsia's chief, Alexander Neradko, said that this work is being carried out as a "priority", during a 20 October meeting to discuss the progress of certification tests of the MC-21-300 – the initial variant of the twinjet, powered by Pratt & Whitney PW1400G engines.
The first example of the PD-14-equipped version, the MC-21-310, has yet to conduct its first flight.
"Preparations of the first flight of [this aircraft] are proceeding according to schedule," insists Rosaviatsia.
"Installation of aircraft systems is nearing completion, software development for the integration of the engines and aircraft control systems is under way."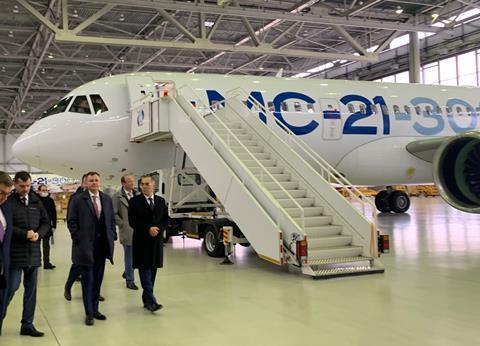 Both Aviadvigatel and the Russian composites specialist AeroKompozit were included on a list of entities subject to US sanctions in late September 2018.
This ruling, in particular, obstructed co-operation to produce composite structures for the jet, and United Aircraft has been forced to develop a domestic alternative.
Trade and industry ministry deputy head Oleg Bocharov, who attended the meeting, says qualification tests on these domestic materials have been performed in line with aviation regulations.
Rosaviatsia says tests carried out in its certified centres have shown that "all the characteristics of the materials meet the requirements" for aircraft design.
"Transition to Russian materials will not lead to a deterioration in the flight and economic performance of the MC-21-300," it says, adding that Irkut has started serial production of parts and structural assemblies from domestic composites.