Russia's United Engine is to develop a new turboprop engine for a 40- to 50-seat regional aircraft programme, the TVRS-44, being created by Ural aviation plant UZGA.
The engine will be based on the Klimov TV7-117ST-01 which is undergoing certification for the Ilyushin Il-114-300.
Klimov says serial production of the new powerplant, designated the TV7-117ST-02, will begin in 2025.
The TVRS-44, which takes its name from the Russian for 'regional turboprop aircraft' and a baseline configuration of 44 seats, is a design founded on the Czech Aircraft Industries Let L-610.
Klimov says the powerplant will be capable of generating 2,400hp at take-off but have reduced fuel consumption, with design changes including a new lighter-weight high-speed generator and electrical starting system.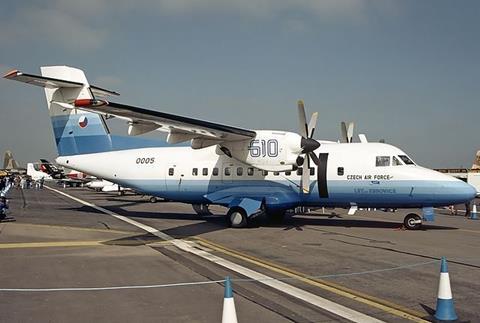 "The project meets two aims," says Klimov general designer Vsevolod Eliseev. "It contributes to development of domestic competencies in civil aircraft construction, and addresses the country's regional aviation demand."
He says initial prototypes will be produced for tests by the middle of 2023, and flight-test engines will be supplied at the end of the same year.
UZGA's TVRS-44 is intended to replace Soviet-era Antonov An-24s and An-26s, as well as Yakovlev Yak-40 jets and the smaller variants of the Canadian-built Bombardier de Havilland Dash 8.