Russian manufacturer Baikal Engineering is to establish an aerospace centre for regional aviation in the eastern Khabarovsk region, which is envisioned as a production facility for the new LMS-901 utility aircraft.
The proposal has the support of the Russian ministry of regional development and the Far East and Arctic development corporation KRDV.
Under the plan the facility will be located at the industrial site of Komsomolsk-on-Amur, which is where Sukhoi Superjet 100s are assembled.
An agreement outlining the proposal – to be implemented over the course of 2022-24 – has been signed at the National Aviation Infrastructure Show in Moscow.
The aerospace centre will feature facilities to train flight and technical personnel.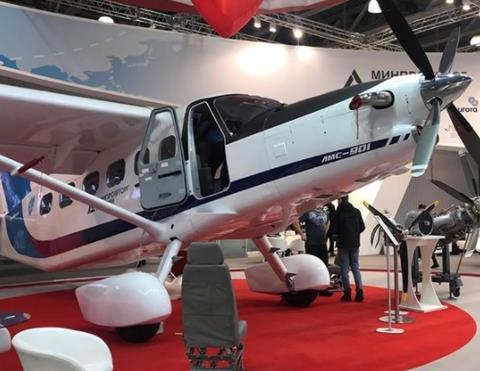 KRDV says the aircraft company will be able to obtain tax benefits and other advantages by applying to be part of the Komsomolsk priority development area. The organisation will build the facilities and lease them to Baikal Engineering.
The LMS-901, which has reached the stage of flight-testing, is intended as a successor to the Antonov An-2. It will be capable of seating up to nine passengers or carrying 2t of cargo, and have a range of up to 1,600nm (3,000km).
Deputy minister for Far East and Arctic development Anatoly Bobrakov says that choosing to build an aircraft, aimed at transporting the eastern population, in the east of the country is "important".
"I am confident that we will jointly create a modern enterprise that will lay a long-term foundation for the development of the Far Eastern aviation complex," he adds.
KRDV will provide support during negotiations with potential investors and partners, the organisation states.