US aerospace firm Mammoth Freighters has detailed plans for a supernumerary personnel area behind the cockpit of its converted Boeing 777 cargo aircraft.
The company, which is aiming to offer conversion of 777-200LR and -300ER twinjets, is seeking US FAA approval for the four-person zone.
This will bring maximum occupancy to eight, because Mammoth is designing the aircraft to accommodate two observers in the cockpit as well as the two pilots.
Its conversion involves installing a main-deck Class E cargo compartment and large freight door in the left side of the aft fuselage. Rigid 9g barriers will be fitted to protect the occupied areas from fire or cargo shift.
The supernumerary area will have four business-class seats, a new galley and a two-person crew rest.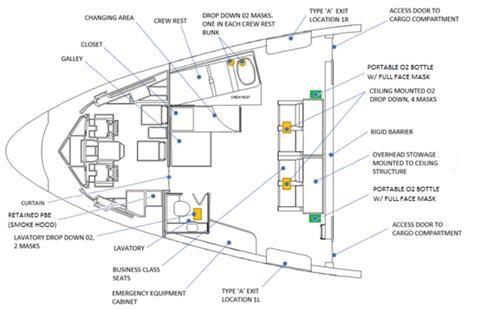 It also features the retained forward left-hand lavatory, the left- and right-hand passenger exit doors – along with their emergency slides – and miscellaneous storage compartments. All the other passenger doors will be de-activated as part of the conversion.
Mammoth is requesting, in its regulatory filing, that up to three supernumerary personnel be permitted to enter the cargo compartment during flight to attend to the freight.
It has also detailed the safety provisions – such as oxygen and alerting systems – which will be installed.