Russian airframer Irkut is to be rebranded with the Yakovlev name, with the migration taking place by the end of August.
Irkut is the manufacturer of the MC-21 and also produces the Superjet 100 and its successor, the SSJ-New.
Yakovlev design bureau is already a part of Irkut but the long-standing name – from Soviet aeronautical engineer Alexander Yakovlev – is set to be adopted across the whole company.
The bureau developed dozens of fighters, bombers, training and aerobatic aircraft, as well as regional airliners.
Irkut general director Andrei Boginsky points to Yakovlev's overseeing the organisation of aircraft production during the Second World War, and says this "resonates" with the current task of uniting the Russian civil aircraft industry in the face of "new challenges".
"We must not only preserve, but develop this heritage," adds Boginsky.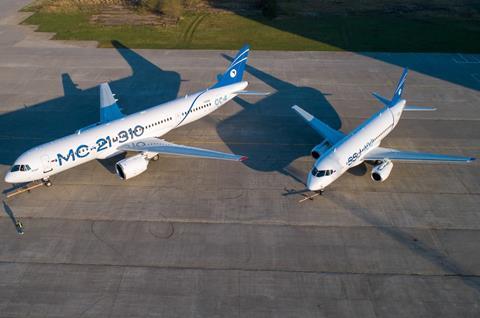 Irkut is set to become the primary supplier of new aircraft to Russian carriers, as a result of international sanctions which prevent the delivery of foreign types including Airbus and Boeing models.
Of the projected demand for 500 civil aircraft from Russian airlines to 2030, Irkut is likely to provide 270 MC-21s and 142 SSJ-New airframes, says Russian state technology corporation Rostec.
"We are overcoming dependence on imports and are aimed at fully equipping our airlines with domestic aircraft comparable [to Western models] in quality, reliability, and other characteristics," insists Rostec chief Sergei Chemezov.
Irkut has developed over the last two decades into a company employing some 20,000 personnel, and the rebrand to Yakovlev takes into account its geographical growth and its increased competency in civil aviation.
The company has yet to confirm whether the MC-21 and SSJ-New will undergo any change of designation.
Former Russian deputy premier Dmitry Rogozin, during a visit to Irkut's facilities a decade ago, had signalled that the MC-21 would eventually be redesignated as the Yak-242 once it entered serial production.
The Yak-242 designation was previously used for a 180-seat twinjet proposal which ultimately evolved into the MC-21.
"Next year we will begin the first deliveries of passenger airliners in fully import-substituted form – with domestic systems, engines, and other components," says Chemezov.
"The supplier of the new aircraft will be a company with a new name."
Rostec has revealed the Irkut rebranding during a week in which the MAKS Moscow 2023 air show should have been taking place. But the show's organisers recently confirmed that the event was being cancelled, and would instead be held in both 2024 and 2025.