Russian analysts are conducting tests with an Irkut MC-21-300 model with wings representative of those created with domestically-sourced composites.
The research at the Central Aerohydrodynamic Institute is intended to explore the potential for flutter on the twinjet.
Irkut and RSK MiG have assisted with development of the 1:7-scale model which has a span of 5.19m and weighs 219kg.
"Use of the new material has led to changes in flexing and torsional stiffness, as well as the distribution of the wing's mass-inertia characteristics," says Anton Dolgopolov, a researcher at the institute's aircraft strength analysis division.
"Our task was to develop a dynamically-similar model corresponding to the updated characteristics."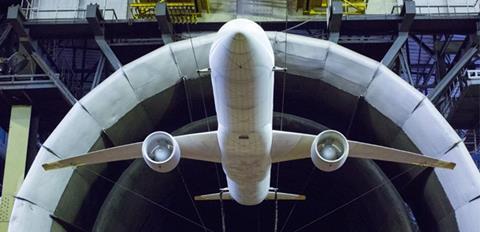 The model has already completed a series of initial tests confirming the model's behaviour, while a second stage involved examining the model in a windtunnel.
These tests aimed to evaluate the change in critical flutter speeds with the domestic-composite wing.
According to the institute the examination has shown absence of flutter in the aircraft's speed range and the availability of sufficient reserves.
The MC-21-300 is the designation of the Pratt & Whitney PW1400G-powered version of the aircraft.
Irkut flew the first MC-21-300 with domestic-composite wings in December last year.
Sanctions had already forced Irkut to source domestic composite materials for MC-21 production, and further restrictions over the Ukrainian conflict mean there is greater focus on the MC-21-310 variant with the Russian-built Aviadvigatel PD-14 engines.