Airbus chief Guillaume Faury insists a 2035 entry-into-service horizon for zero-emission aircraft is "credible", given the advancing work on hydrogen power.
Six months ago the airframer unveiled proposed designs for zero-emissions aircraft, including a blended-wing body concept alongside more conventional twinjet and turboprop configurations.
"We think it's going to happen," said Faury, speaking during a Eurocontrol-hosted event on 30 March. "These are different architectures we're looking at – among others – these are the main ones we're looking at for future hydrogen aircraft."
Faury says the blended-wing concept is "very interesting", because it is "well-suited for a high volume of fuel inside the aircraft" – pointing out that hydrogen is "bulky" compared with kerosene-based fuel.
"To go a certain distance need more volume of fuel on board and that's why we're looking at different architectures," he states.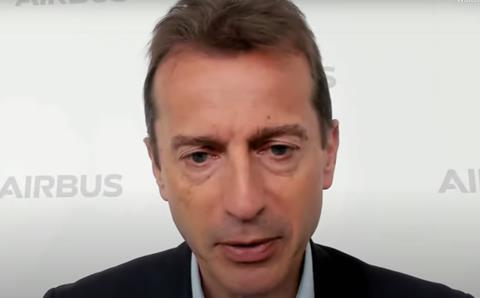 Faury believes the 2035 timeframe for entry-into-service "makes sense" because it gives the aerospace industry five years to mature the technology.
He says the industry is "working on that now, big time".
Another two years would be necessary to prepare to launch an aircraft programme – sourcing funding and finding production locations – before a formal launch around 2027-28, giving another seven or eight years before introduction to service.
"That's very credible," says Faury. "It doesn't mean all solutions are on the table."
Although hydrogen is "not a new technology", he says, a "lot of engineering" is necessary to adapt it safely and reliably to commercial aerospace.
Faury also stresses that a new regulatory framework is required, as well as a "level playing-field" for those regulations, plus "large quantities of decarbonised hydrogen at airports" by 2035.
"Obviously we're far from being there," he says. But he adds that there is "big momentum" on hydrogen technology in a number of industries. "We think that's really good to see, very encouraging," he says.