Moscow Aviation Institute has manufactured and shipped components for a prototype wing-box intended for the proposed long-haul CRAIC CR929.
The CR929 is joint Russian-Chinese project to develop a widebody twinjet.
Moscow Aviation Institute says its experimental facility has produced the components – which took around two months – and shipped them to the AeroKompozit facility in Ulyanovsk.
"The customer now has to test our products," says the facility's director, Sergei Epishev.
"After completion, we will be able to begin serial production of parts for the [long-range aircraft]."
The facility states that they will be used for a static assembly to be tested at the Central Aerohydrodynamic Institute.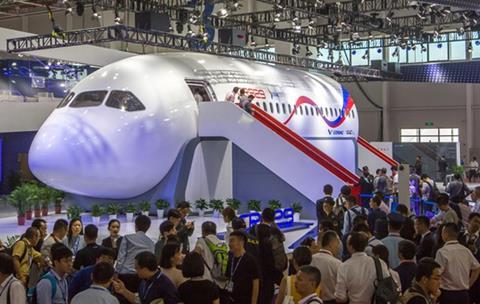 Russia's and China's governments have been co-operating on the CR929, and the Moscow Aviation Institute has links with a Shanghai counterpart as part of the effort.
But while mock-ups of the three-member CR929 family have been shown off, the timeframe of the programme is unclear. CRAIC was established as a joint venture in 2017, and deliveries had been foreseen for 2025 onwards.
The basic variant, the CR929-600, is envisaged as having accommodation for 281 to 405 passengers, or even 440 in a high-density layout.
Russian entities are responsible for the wing and avionics, says Moscow Aviation Institute, while Chinese firms have been allocated fuselage and fin sections.
Although Rolls-Royce and General Electric had been considered as engine suppliers, the international sanctions on Russian aerospace mean the Aviadvigatel PD-35 is a more likely candidate.