MTU Aerospace continues to progress two next-generation propulsion concepts with that activity buoyed by the recent award of EU funding to accelerate work on a fuel cell powertrain.
Munich-based MTU had already been working on a project alongside Germany's DLR aerospace research institute with the aim of converting a Dornier 228 to run on fuel cells.
But the award in September of funding from the EU's Clean Aviation initiative for the MTU-led HEROPS (Hydrogen-Electric Zero Emission Propulsion System) promises to further advance the firm's grasp of the technology.
"We want to understand the technology better," says Fabian Donus, MTU's innovative propulsion director.
"Today there is no fuel cell system which is optimised for aviation and we think this is a mistake."
Automotive fuel cells are "not capable of bringing efficiencies" in terms of power or weight, he says: "For us that is key."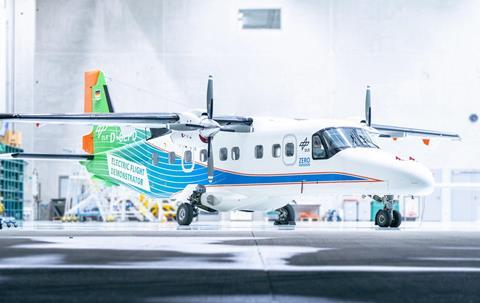 Under the DLR project a flight of the fuel cell-equipped Do 228 is supposed to take place by the middle of the decade "and we are still targeting that".
Running until 2026, no flight testing is envisaged through the first phase of the HEROPS programme, instead it seeks to mature the components needed for a powertrain, including the fuel cell stacks and hydrogen storage tanks.
Meanwhile, MTU continues to explore the potential of its Water Enhanced Turbofan (WET) concept, in part through the Clean Aviation-backed SWITCH programme in which it is working alongside Airbus, Collins Aerospace, GKN Aerospace, and long-term narrowbody engine partner Pratt & Whitney.
Additional work on the WET concept has been funded by Germany's LuFo aeronautical research programme and component-level rig tests began earlier this year, says Donus. However, he adds: "We are still in the phase of trying to converge on the architecture [of the WET engine] itself."