Israel Aerospace Industries is to set up a European facility in Naples to convert passenger aircraft into freighters.
It will co-operate on the conversion site – which will concentrate on Boeing 737-700 and -800 modification – with Italian maintenance specialist Atitech.
Atitech was formerly a technical division of Italian carrier Alitalia but was sold to private investors in 2009 during an administration period for the airline.
Israel Aerospace Industries says the Italian conversion site will complement two others established in China.
The company says its decision follows a "rise in demand" for 737-based converted freighters.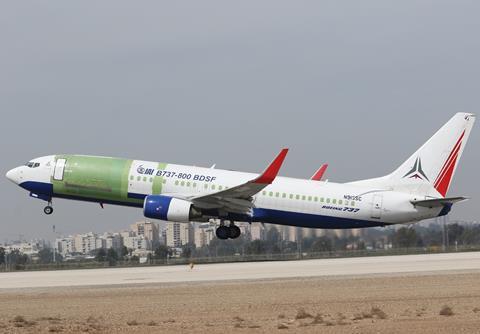 IAI aviation group general manager Yossi Melamed says the European facility is a "historical step" for the firm which, he adds, has become a "world-leading name" in freighter conversions.
"[Our] converted freighter aircraft serve the world's largest cargo companies, and most of the e-commerce market," he says.
Atitech will provide specialist maintenance and cargo conversion knowledge, as well as training, licensing and registration support.
"Freighter conversions require huge investment, advanced technology, and skilled personnel, with high barriers to entry in the sector," says Atitech president Gianni Lettieri.
"We will restart the high-tech activity done when the [plant] belonged to Aeronavali Venice and specialised in conversion of [McDonnell Douglas DC-8s and DC-10s]."
He adds that Atitech has experience in modifying Boeing passenger aircraft and will convert two aircraft at a time in parallel "nose-to-tail" lines.