New Rolls-Royce chief executive Tufan Erginbilgic has given a withering assessment of the company's strategic and financial performance as it unveiled its full-year results.
Rolls-Royce has been "underperforming for an extended period", he said during a presentation on 23 February.
"Cash generation is unsatisfactory. Our debt is still too high. Too much of our gross profit is simply covering overheads and interest payments.
"A weak balance sheet and sub-investment-grade credit rating limit our ability to invest in growth for the future."
Although the company generated improved results last year, Erginbilgic says it cannot rely on market recovery alone to demonstrate better performance.
He points out that total shareholder return over the last five years reached -67%, and this shows that the problem is "not just a Covid issue".
Even excluding 2020 – when the pandemic was fiercely affecting businesses – the company's average return on capital employed was just 3.5%.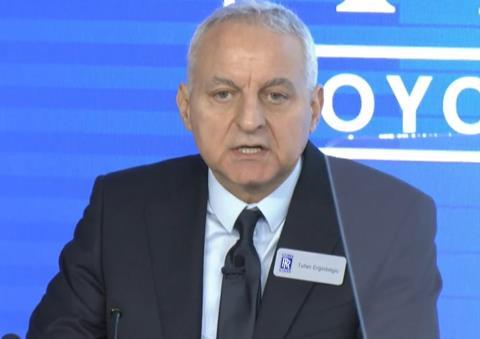 Rolls-Royce has recently completed a benchmark study, says Erginbilgic, which confirms that its margins are "below competition" on a like-for-like adjusted basis.
"Low operating margins and a relatively high fixed-cost base leave us financially exposed when uncertainty impacts our markets," he says.
Rolls-Royce has "not had sufficient strategic clarity" with which to make its investment choices, he adds: "Instead, we've been trying to keep too many options open."
But Erginbilgic says he believes the manufacturer has the potential to be a "much higher-quality and more competitive company" and that there is an opportunity to put it in a "much stronger position".
"In all my previous roles I have driven step-changes in performance, set clear strategies and delivered sustained improvements in profits, cash-flows and returns," he states.
"Everything I've seen since arriving has made me even more confident in the potential to do the same at Rolls-Royce."