US supplier Spirit AeroSystems states that it will continue to deliver fuselages to Boeing's 737 programme, because not all are affected by a newly-discovered quality issue involving the aft pressure bulkhead.
Boeing disclosed on 23 August that it had identified fastener holes that did not conform to specification for the bulkhead.
The structures are manufactured by Wichita-based Spirit AeroSystems, which says it is aware of "elongated" fastener holes on "certain models" of its 737 fuselages.
"Because Spirit uses multiple suppliers for the aft pressure bulkhead, only some units are affected," it adds.
"Spirit will continue to deliver units to Boeing."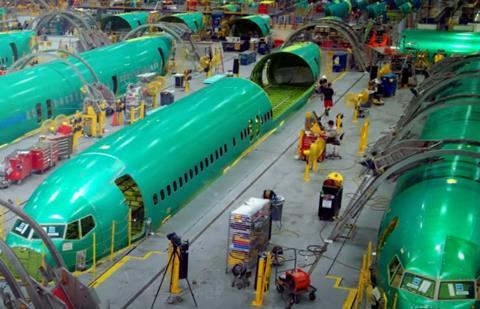 The supplier says it has "implemented changes" to its manufacturing processes in order to address the issue.
It also points out that Boeing has determined there is no immediate safety-of-flight concern with in-service aircraft.
"We are working closely with our customer to address any impacted units within the production system and address any needed rework," says Spirit.
"Based upon what we know now, we believe there will not be a material impact to our delivery range for the year related to this issue."
Boeing has said that near-term deliveries of 737s will be affected while it assesses the number of aircraft involved and the extent of remedial work needed.