Israel Aerospace Industries considered the Boeing 777-200ER for potential freighter conversion but settled on the larger 777-300ER because it views the volume capability as particularly important to the cargo market.
The company has commenced modification of an initial 777-300ER under its latest freighter programme, being carried out in co-operation with GECAS.
Speaking to FlightGlobal, IAI Aviation Group general manager Yossi Melamed said the company "looked at" the older -200ER but points out that the -300ER is able to carry 30% more volume.
This will be an advantage given the way the cargo market is evolving, he says.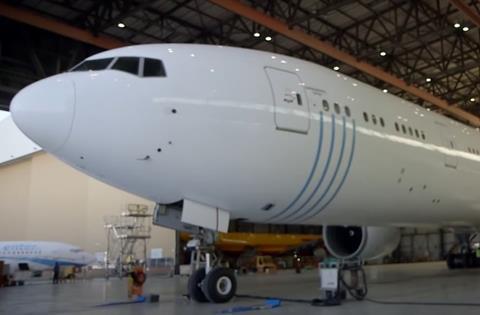 "When I try to predict the market in the future, I believe e-commerce will dominate," says Melamed. "[For] e-commerce, volume is very important compared with weight."
Boeing already offers a long-range new-build freighter based on the 777-200LR airframe, which has the same fuselage dimensions as the -200ER.
Melamed sees "strong demand" in the market for a 777-300ERSF conversion, expecting orders for at least 50 aircraft.
While the 747 has occupied a high-profile role in the widebody freighter sector – "long live the king", he says – the type is "coming out of the market".
He also shrugs off the potential threat from the proposed Airbus A350 freighter, set to emerge in mid-decade, stressing that the cost of a conversion is far lower than the price of a new aircraft.
"In our eyes, conversion eyes, we don't see a [new-build] freighter as a competitor," he says, adding that such aircraft tend to be acquired by companies "which have a philosophy" of using new-build aircraft. "I'm not in this game."