Rolls-Royce has completed the first fuel burn on a new small gas turbine engine it is developing as part of a lightweight turbogenerator for hybrid-electric aircraft applications.
Performed at the propulsion specialist's site in Dahlewitz, Germany, the initial tests have generated data to help validate key technical aspects of the 1,000shp (745kW) design, it says.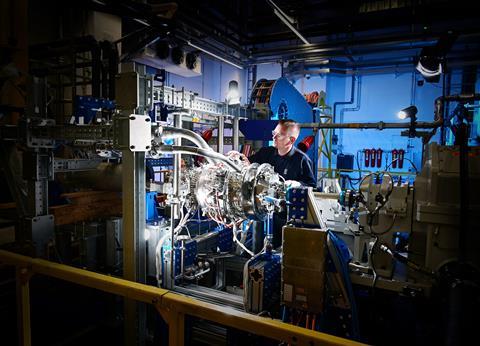 "This will allow for design adaptations for the next set of testing, ultimately pushing towards the maturity of a certified engine with world-class performance for this new market segment."
Launched at the ILA Berlin air show in June 2022, the clean-sheet turbine incorporates a combustor derived from larger civil engines and a two-stage axial compressor, alongside the latest materials and 3D aerodynamics.
Rolls-Royce showed the engine installed on the test rig at Dahlewitz during a media event at the site earlier this year.
Matheu Parr, customer director, Rolls-Royce Electrical, says: "This significant achievement follows the fast-paced development time of the new gas turbine from concept freeze to 'pass to test' in under two years."
Test facilities and equipment, comprising 14 subsystems in total, were designed, procured and built – or adapted – by a global team in just under a year.
Rolls-Royce says the scalable design of the engine and turbogenerator will allow it to address applications requiring electrical power in the 500kW to 1.2MW range.
Initially able to run on sustainable aviation fuels, it will later be capable of hydrogen combustion.
Rolls-Royce says the turbogenerator will allow electric aircraft to fly longer routes than on battery power alone.
Tests of the generator will begin before it is combined with the turbine. Service entry for the complete system is targeted for 2029.
Although designed for use as part of the turbogenerator, the small turbine engine has potential rotorcraft or auxiliary power unit applications.
Rolls-Royce still produces M250-series engines for the light helicopter market, offering power outputs in the 300-650shp range.

Dominic Perry is deputy editor of Flight International but also contributes extensively to flightglobal.com. Although specialising in the coverage of the helicopter industry, he has written on most topics in aerospace – be they commercial, defence or business aviation. In addition, there has been an increasing focus on the decarbonisation of the industry and zero-emission flight initiatives.
View full Profile