Rolls-Royce will shortly begin rig tests of a clean-sheet small gas turbine engine that has been specifically developed as part of a new turbogenerator being developed for the advanced air mobility (AAM) market.
Announced at last year's ILA Berlin, Rolls-Royce has rapidly designed and built the gas turbine with the completed engine now installed in a testbed at its facility in Dahlewitz, Germany, a stone's throw from the air show site.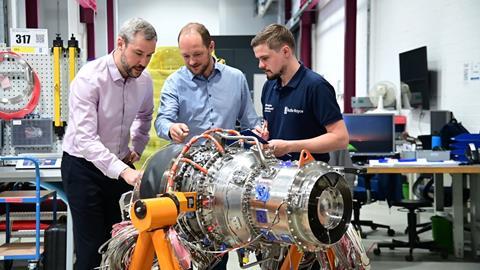 Designed for AAM applications which require more range and payload than can be provided with batteries alone, the turbogenerator is due to enter service in 2029, says Matheu Parr, customer director at Rolls-Royce Electrical.
Rolls-Royce was previously working on a turbogenerator built around its M250 helicopter engine, but Parr says better performance is enabled by designing the system with the specific end-use in mind.
"What we are doing, which is very different to the other solutions on the market, is from the outset we are designing a gas turbine to support this turbogenerator focused on it being for that role."
That has enabled optimisation of the design, including its rotational speed, and allowed weight to be stripped out, delivering power density of 4kW/kg.
Initially capable of running on sustainable aviation fuel, the engine will also be designed to operate on hydrogen in the future.
"It will require an upgrade but we are making the right sort of architecture decisions now that allow us to make such an upgrade," says Parr.
He says the new gas turbine will be around 15% more fuel efficient than the M250, and the total system weight has been halved to around 200-250kg (440-550lb) through the optimised design. Other metrics such as noise and time-before-overhaul have also been improved.
"We have looked at all the key criteria that the customers are looking for… and this surpasses the M250 in all regards," says Parr.
"The fact that we build it from the outset as a turbogenerator means that we can take such benefits."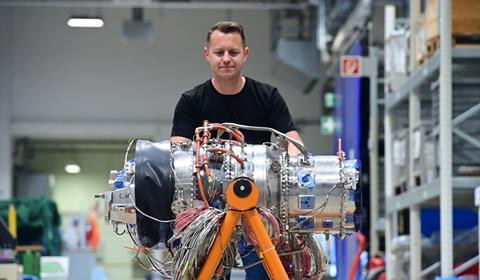 Rolls-Royce has incorporated new technology in the engine including a combustor "derived from larger civil products" and two-stage centrifugal compressor, says Uwe Minkus, chief engineer, future programmes and electrical – business aviation. It also features the latest materials and 3D aerodynamics, he adds.
"It is markedly different from what you would find in smaller-size engines today."
Sized to produce 800kW of electrical power, the gas turbine has an output of a little over 1,000shp. However, the "versatile" design is scalable, says Minkus, allowing it to address applications requiring electrical power in the 500kW to 1.2MW range.
Tests of the gas turbine will continue for the remainder of the year and will be followed in 2024 by evaluations of the generator before the two parts are brought together.
"There is quite a bit of testing and further product development to go," adds Parr.
Rolls-Royce says the turbogenerator will be suitable for electrical vertical take-off and landing or commuter aircraft applications up to 19 seats. It can be used in either a series or parallel hybrid configuration.

Dominic Perry is deputy editor of Flight International but also contributes extensively to flightglobal.com. Although specialising in the coverage of the helicopter industry, he has written on most topics in aerospace – be they commercial, defence or business aviation. In addition, there has been an increasing focus on the decarbonisation of the industry and zero-emission flight initiatives.
View full Profile