Rolls-Royce has started used a renovated Bristol facility to test components for a hybrid-electric power-generation system, known as PGS1, for a demonstrator programme with intended application to future regional aircraft.
PGS1, which emerged from the truncated E-Fan X programme, will include a keg-sized generator required to deliver power levels of 2.5MW, linked to a 3,000V power electronics system and an AE2100 gas turbine.
The AE2100 engine has been previously used to power civil and military aircraft including the Saab 2000 and Lockheed Martin C-130J.
Rolls-Royce has renovated the Testbed 108 facility – previously associated with engines for the Bristol Beaufighter to the BAC-Aerospatiale Concorde – which had been used for storage since 2008.
It has started PGS1 system work at the testbed, concentrating on the AE2100 engine components, controls, and thermal-management system.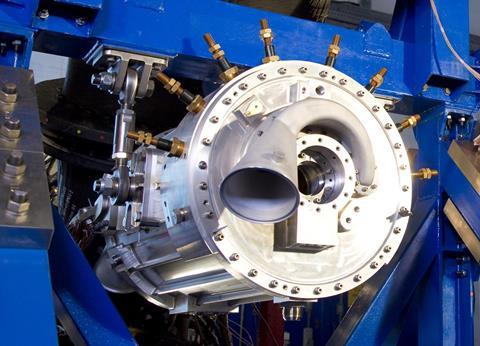 This work will complement the testing of the power electronics system being carried out at Rolls-Royce's Norwegian high-voltage test centre at Trondheim. This testing is in its final stages.
Rolls-Royce says the power electronics system will be combined with a fully-operational generator later this year in order to start testing of the full PGS1.
"The generator can be used either for hybrid-electric propulsion systems or as part of a 'more-electric' system for larger aircraft," says the manufacturer.
Rolls-Royce director of aerospace technology and future programmes Alan Newby says the system "promises to be truly groundbreaking".
"Electrification offers a new way to power short-haul aircraft and we want to be at the forefront of pioneering this technology," he says.
"Our PGS1 tests will lead the way in finding out what this new generation of hybrid-electric propulsion system is capable of delivering."
Once PGS1 has been ground-tested, it will become a technology platform for future hybrid aircraft that demand megawatt-level supplies of power.
"By doing these tests we will be able to validate our digital modelling and find out precisely what is physically and technically possible," says Newby.