Rolls-Royce is looking into new partnership arrangements covering such matters as its UltraFan programme and its supply of spare engines, as part of the broader restructuring of its civil aerospace activities.
The engine manufacturer acknowledges that development of its UltraFan will be affected by the air transport crisis, with a "likely delay in entry into service" of aircraft powered by the new engine.
UltraFan is intended as a geared-fan high-thrust engine featuring innovative materials and offering a "step-change increase" in bypass ratio, says the manufacturer, to generate fuel efficiency and noise reduction.
Rolls-Royce had aimed UltraFan at applications beyond 2025.
But it says it is "re-phasing" its investment in the programme to cope with a probable shift in the timeframe.
"We are looking at new ways of working in order to deliver more compelling returns for shareholders," the company states, adding that it is "actively exploring new forms of industrial partnership" on the UltraFan programme, with the intention of optimising investment return.
Rolls-Royce is planning to divest its ITP Aero subsidiary, a supplier to UltraFan. But the engine manufacturer says the new partnership approach is "nothing to do" with the shedding of ITP.
"[We] believe that new forms of industrial collaboration are going to increasingly be an industry-wide dynamic – accelerated by [the current crisis]," it states.
"We recognise that engine programmes take a significant amount of time to reach break-even and there may be even better ways of doing it through new forms of industrial collaboration."
But the manufacturer stresses that the strategy is in its "early days" and it does not have any further details to disclose.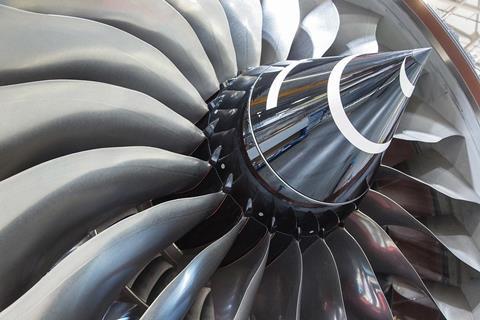 Rolls-Royce is also looking at a new approach to spare-engine provision, aiming to pursue third-party partnerships to reduce the capital intensity of this service.
The manufacturer says it typically commits £100-150 million each year to spare engines, supporting operators who have paid for spare-engine coverage under long-term service agreements.
Rolls-Royce says it plans to implement a "capital-light" spare-engine strategy through third-party tie-ups which, it adds, will provide increased flexibility.
The company is seeking to reinforce its finances after its civil aerospace businesses were hit heavily by the air transport crisis. Rolls-Royce is particularly exposed to the weak long-haul sector, where much of its civil engine activity is directed.
It had recorded a 66% rise in long-haul engine deliveries over 2015-19, while engine flight-hours increased by 43%.
Rolls-Royce's business model relies heavily on the aftermarket, with income derived from power-by-the-hour agreements under which it receives payment while aircraft are operating.
Last year its large-engine fleet generated £4 billion of gross cash inflow while £2.7 billion was derived from delivery of engines for long-haul jets. But both flight-hours and deliveries halved over the first six months of this year.
But Rolls-Royce insists to potential investors that the markets for its business remain "fundamentally attractive" over the long term.
It expects aftermarket activity to recover gradually, with large-engine flight-hours reaching 2019 levels by 2024-25.
Although engine deliveries will remain at about 250 per year over 2020-22, the company expects they will still exceed retirements of 100-150 per year – although the withdrawal of Airbus A380 and A340-600 fleets will result in a one-off effect on this figure during 2020.
Rolls-Royce also points out that there have been "early signs of recovery" from April's low-points following increased flight activity in China, the Asia-Pacific region, and the Middle East. As a result of the "modest" recovery in flight-hours foreseen in the fourth quarter of this year, it is expecting a reduction of free-cash outflow for the second half of 2020 and further improvement in 2021.