Rolls-Royce delivered 195 large civil engines last year, down by more than 25%, and less than half of the pre-crisis figure of 510.
But the manufacturer stresses that large engine flying hours rose by 11% last year – and by 57% in the second half – as signs of gradual recovery emerged in the air transport sector.
Rolls-Royce engine deliveries had been lifted in 2019, the year before the pandemic, by a ramp-up of Airbus A330neo production for which it supplies the Trent 7000 engine.
But a persistent weak long-haul market, placed under further strain by travel restrictions imposed during the crisis, has kept pressure on the large engine sector.
"Fewer large engines were required to fulfil customer build schedules, but sales of spare engines increased," it says.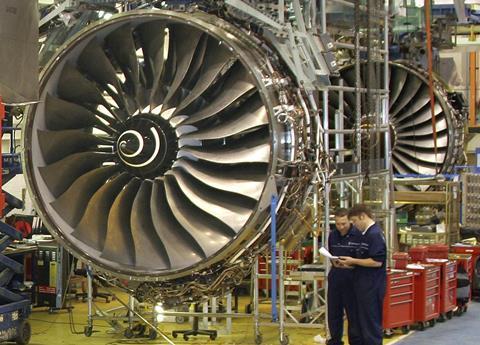 Rolls-Royce is optimistic over the prospects for recovery and the development of the A350 freighter for which it will provide Trent XWB powerplants.
It adds that its wide-ranging restructuring programme – which has focused primarily on civil aerospace – is "largely completed", generating higher productivity and lower costs.
Although Rolls-Royce's civil aerospace division recorded a 29% fall in original equipment revenues, as a result of the drop in engine deliveries, service revenues were up 6%.
The division turned in a "significantly improved" full-year performance, it states, with an underlying operating loss of £172 million ($231 million) – contrasting with the previous £2.5 billion figure, partly the result of one-off pandemic-related charges.
Rolls-Royce expects a continuing gradual improvement in international travel this year, with an acceleration in flying hours as travel restrictions lift.
"We will remain focused on actions within our control, keeping costs low and maintaining the recent productivity gains as shop visits increase," it states.
This, and an expected increase in spare engine sales, would support "modest" revenue growth and improved profitability for the division in 2022, as well as a "substantial improvement" in trading cash flow.