Rolls-Royce is expecting to detail to its personnel, by the end of May, the impact on the size of its civil aerospace workforce as it adapts to the collapse in air transport demand.
It expects to deliver just 250 widebody aircraft engines this year, compared with its previous estimate of 450, following cuts in production rates by Airbus and Boeing.
Over the first four months of the year, civil aerospace engine flying hours on widebody aircraft have fallen by 40% compared with expectations – including a 90% fall in April.
The company says it predicts that maintenance, repair and overhaul volumes will be lower this year than last.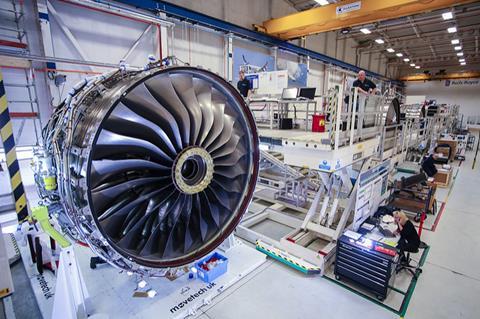 Rolls-Royce says measures taken so far to combat the coronavirus crisis – originally expected to save £750 million – have proven more effective than expected, and it is predicting a cash-flow benefit of £1 billion this year.
But chief executive Warren East is set to tell shareholders at its 7 May annual general meeting that the company must take "difficult but necessary decisions" to ensure it emerges from the crisis with the "appropriate cost base" for a smaller commercial aerospace market – one which "may take several years to recover".
The company says it is "actively pursuing changes" to align its operations with medium-term market conditions.
"We are committed to working with our trade union and employee representatives, as well as our customers and suppliers, as we adjust to the new outlook and establish a more appropriate cost base in order to secure our future for all stakeholders," it says.
"We have promised to give our people further details of the impact of the current situation on the size of our workforce before the end of this month and will consult with affected employees in due course."
Over 4,000 employees in the UK have been furloughed across the company's divisions.
Rolls-Royce had already secured a £1.5 billion credit facility and states that a syndication process has increased this to £1.9 billion. It adds that cancellation of a final shareholder payment for 2019 has saved a further £137 million.