Rolls-Royce large engine flying hours were down by 57% last year, while deliveries of such engines almost halved to 264.
The powerplant manufacturer disclosed the full-year impact of the air transport crisis as it turned in a £2.6 billion ($3.6 billion) underlying operating loss from its civil aerospace division.
Production cuts from airframers resulted in the substantial reduction in large civil engine deliveries. Deliveries to the business jet sector – a total of 184 compared with the prior 219 – were more resilient, but reduced during the second half.
The powerplant manufacturer says large engine flying-hour performance was "significantly more robust" for its newer engine programmes than its more mature ones, and there was an 11% fall in major service visits for large engines, particularly in the second half, owing to the reduction in activity.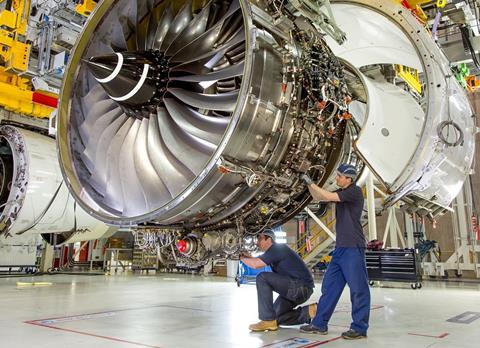 Rolls-Royce recorded one-time charges of £1.3 billion including a £974 million impact from service agreement "catch-ups", mainly affecting its mature engine programmes, as a result of forecast reduction in flying-hour receipts.
The charges also included £213 million to cover up-front recognition of future losses, as a result of contracts becoming loss-making.
Rolls-Royce also took an £86 million charge reflecting "specific customer provisions" arising from the impact of the crisis on the industry and its "customers' financial positions".
The manufacturer expects large engine flying hours to remain 45% down on 2019 levels this year – although it sees a "strong second-half weighting as the recovery speeds up – and 20% down in 2022.
But it envisions large engine deliveries remain low, with 200-250 planned for this year, alongside 100-150 business jet engines.
"We continue to plan for a range of recovery scenarios," it says. "Our central assumption is for a gradual market recovery in 2021, with a slow start to the year but accelerating in the second half."
But it cautions that its "severe but plausible" downside scenario would limit flying hours this year to 45% of 2019 levels, rising to 70% next year.
Civil aerospace has taken the burden of Rolls-Royce restructuring efforts aimed at reducing the company's cost base. Some 5,500 roles in the division have been cut, mostly during the second half of last year.
Rolls-Royce is planning to shed about 9,000 roles – mainly in civil aerospace – by the end of 2022.