Rolls-Royce has taken delivery of the first UltraFan engine demonstrator's intermediate compressor case.
The structure has been produced by GKN Aerospace at its Swedish facility.
UltraFan is a high-bypass engine being developed by Rolls-Royce for large civil aircraft applications from the middle of this decade, and is intended to improve fuel efficiency by 25% compared with the manufacturer's first generation of Trent powerplants.
The component produced by GKN is a structure which transmits rotor gas stresses to the engine case and thrust mounts.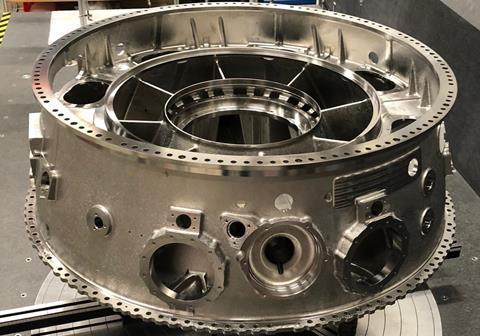 GKN says the production and testing of the case will validate a range of new technologies, among them a low-cost sectorised fabrication concept with castings.
"This makes use of an innovative welding method based on computer simulations, optimised bleed-system aerodynamics and acoustics, shorter aggressive duct design, and 3D printing of attaching parts," it adds.
Rolls-Royce is aiming to carry out a full ground test of UltraFan, which features a geared architecture, next year.
Delivery of the intermediate compressor case is a "true milestone", says GKN Aerospace global technology centre vice-president Henrik Runnemalm.
He says it "reaffirms the success" of the European research and collaboration programme designated 'Clean Sky2', and adds: "We are excited to have implemented our latest sustainable technologies in the [casing's] development."