Rolls-Royce is weighing the disposal of its ITP Aero division as a halving of flying hours, depressed deliveries, and heavy exceptional charges sent its civil aerospace division into an underlying gross loss of more than £1.5 billion ($2 billion).
It says it is reviewing its portfolio to identify assets "no longer key" to its future strategy, in a bid to raise £2 billion over the next 18 months.
Among these assets is the company's ITP Aero turbine production division. Rolls-Royce says "appropriate preparation work" for potential disposal is under way.
"We will also explore options to increase the scope of ITP Aero's supply chain and manufacturing activities," it adds.
"Notwithstanding the outcome, ITP Aero is a key partner and we will retain a long-term relationship with the business across our civil aerospace and defence programmes."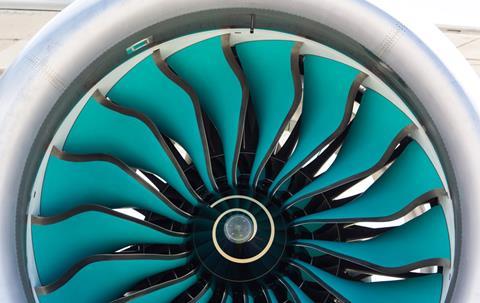 ITP Aero is affected by the same pressures as Rolls-Royce's broader civil aerospace business.
Flying hours for large Rolls-Royce engines nearly halved over the first six months of 2020.
The flying-hour figure was down to 53% of last year's levels and the engine manufacturer expects this to deteriorate to 45% for the full year.
But Rolls-Royce expects this to recover to around 70% of 2019 levels next year and 90% in 2022.
The company delivered 137 large engines in the six months to 30 June – down from the prior number of 257 – out of 240 civil engines in total.
Rolls-Royce is expecting large-engine deliveries to remain subdued, at around 250 per year, from 2020-22. It predicts they will gradually increase from 2022, but remain below 2019 levels until the "middle of the decade".
But the rise in flying hours over the same period, it says, should lead to a "significant improvement" in civil aerospace performance from 2021, given the extensive restructuring of the division, with a return to positive cash generation in 2022.
The civil aerospace operation is undergoing the largest restructuring in the company's history, including the proposed shedding of up to 8,000 positions.
Rolls-Royce has proposed to consolidate widebody engine assembly and testing from three sites to a single site at its Derby headquarters in the UK.
It is also intending to consolidate Trent engine fan-blade production to a single site in Singapore, and concentrate turbine-blade machining in Derby. Blisk production would also be consolidated in Derby and Oberursel in Germany.
The re-organisation plan will squeeze the work of 10 manufacturing facilities into five.
"This restructuring has caused us to take difficult decisions resulting in an unfortunate but necessary reduction in roles," says chief executive Warren East.
The company says the one-time charges, amounting to £1.2 billion, were "largely" related to the air transport crisis.
They included an £814 million impact from "negative contract catch-ups", it says, mainly resulting from the forecast reduction in engine flying hours.
Rolls-Royce also recognised a £309 million charge from contract which have become loss-making – or for which losses have increased – particularly for the Trent 900 programme on the Airbus A380.
It adds that a further £95 million charge relates to specific customer provisions and deterioration of civil aerospace customers' credit ratings, as a result of the coronavirus situation.