Russian aviation alliance Aerokhimflot has reached a tentative agreement covering the acquisition of 120 UZGA LMS-901 Baikal light utility aircraft.
Aerokhimflot is an association of aircraft operators specialising in such fields as agricultural and forestry work, set up in 2019.
UZGA says the letter of intent covers the supply of LMS-901s to alliance members over the course of 2026-30.
"Parties to the agreement will devise a schedule for aircraft delivery, taking into account UZGA production capability and the needs of Aerokhimflot members," adds the manufacturer.
The two sides will co-operate on adapting the aircraft to conduct services such as chemical operations with a view to approving performance characteristics and specifications by 1 July.
Flexibility to carry out a variety of aviation work was part of the design consideration for the LMS-901, states UZGA head of aviation sales and marketing Maksim Kharin.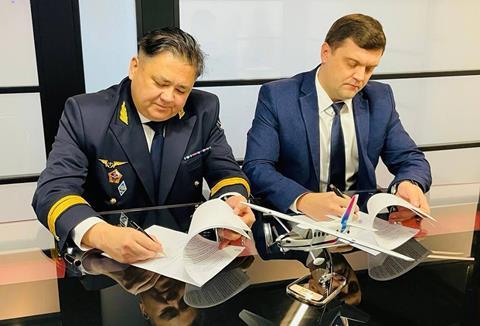 The single-engined aircraft will accommodate up to nine passengers or 2t of cargo.
Aerokhimflot head Klim Galiullin says the LMS-901 has the potential to replace ageing Antonov An-2 aircraft which have high fuel consumption.
"We are quite satisfied with the range of speeds that the [LMS-901] reaches, as well as the predicted economic indicators," says Galiullin, following preliminary analysis of test results on the aircraft.
"We expect that the economics of carrying out aviation work with the LMS-901 will be more profitable than currently."