Russian aerospace firm AeroKompozit is introducing a domestically-built robot designed to lay composite fibres for the Irkut MC-21 twinjet's wings.
The machine – created in co-operation with the South-Russian Platov state polytechnic university in Novocherkassk – is intended to replace foreign-built equipment, unavailable owing to sanctions imposed over the Ukrainian conflict.
"All key components including the software and process-control systems are made in Russia," says state technology firm Rostec.
Lightweight composite wings for the MC-21 will be manufactured using carbon tape-layers which are then bonded through heating.
The continuous laying process involves bobbins holding 3,000-3,500m of tape.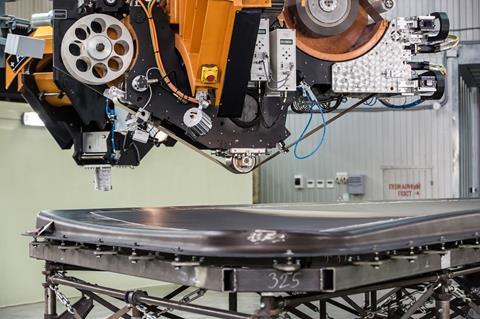 "We have phased out the imports of composite materials in the aircraft wing within the shortest possible period of time," says Rostec deputy general director Vladimir Artyakov.
He says the organisation has obtained approval for the change from Russian federal air transport regulator Rosaviatsia.
"We have created a Russian laying-robot for domestically-made [composite] wings that is as good as foreign counterparts," he adds.
Artyakov says the equipment will support the serial production of MC-21s at a rate of up to 36 per year.
AeroKompozit's Moscow facility has put a prototype of the robot into commercial operation, says Rostec.
General director of AeroKompozit Anatoly Gaydansky says the technology is achieving "high quality, speed and reliability" and that the next step is to scale-up the production capability.