Russia's federal air transport regulator has granted life-extension approval for the Antonov An-148 regional twinjet, increasing it from 10 to 30 years.
Rosaviatsia says the work to extend the type's life has been conducted in "strict accordance" with regulations and international practice.
The An-148 was originally developed by Ukrainian design bureau Antonov, and – under a previous co-operation programme – several airframes were assembled at a Russian plant in Voronezh.
While Antonov is the type certificate holder, the deterioration in Ukrainian-Russian relations – which preceded the current conflict – meant joint work on the programme stalled.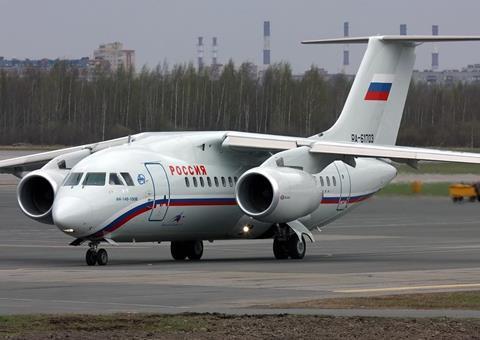 Rosaviatsia says it issued the supplementary certification on 21 June, following work carried out by the Ilyushin division of United Aircraft.
"Results of the certification work allow the An-148, operated by several Russian airlines, to continue flying," it states.
Rosaviatsia says that Ilyushin has "strong competencies" as an aircraft developer, and that – as part of the effort – the An-148 was assessed under an aging-control programme, with an evaluation of previous work undertaken by Antonov.