Russian state technology corporation Rostec has shipped the first domestically-built avionics equipment for the Yakovlev MC-21.
The equipment – system control panels and lighting for the cockpit – has been developed by radio-electronic specialist KRET's Ulyanovsk instrumentation design bureau.
Russia's government has been pursuing a programme of import substitution, to replace foreign-built components with Russian equivalents, and this initiative accelerated after sanctions were imposed on the aerospace industry as a result of the Ukrainian conflict.
"Despite unprecedented pressure and the need for large-scale import substitution, Rostec enterprises are coping," says Rostec executive director Oleg Yevtushenko.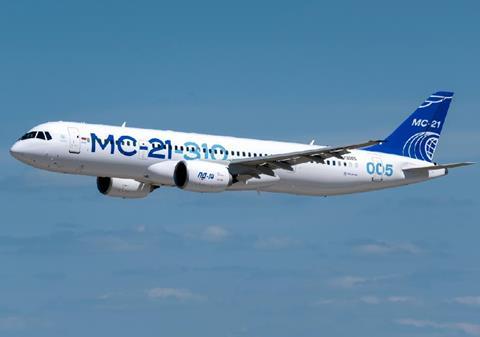 KRET has replaced a "large number" of foreign components in the avionics and submitted the systems to Yakovlev for bench-testing as well as MC-21 assembly, he adds.
Rostec says the instrumentation design bureau is creating a "unified" information and control suite for the MC-21.
It has developed controls for inertial, hydraulic, fuel, and anti-ice systems as well as fire-protection, air-conditioning and other areas.
Lighting in the cockpit has also shifted to being "completely domestic", says Rostec.
First flight of the import-substituted MC-21, powered by Aviadvigatel PD-14 engines, is planned for 2024.