Russia's government is proposing subsidise the operation of domestically-built aircraft, to reduce operating costs, and provide state guarantees to lessors to support the country's civil aviation industry.
President Vladimir Putin told senior politicians and airline industry leaders, via video conference on 13 May, that the proposal, running over 2020-21, would ensure the production of 59 civil aircraft from assembly plants over two years.
He also suggested the leasing subsidy mechanism should link receipt of subsidies to the purchase of specific aircraft.
Increasing demand for Russian aircraft will lead to job creation, modernisation of production, and development of new models, Putin told the conference.
The state should "actively increase" orders in order to support demand, he said, noting that the Russian postal service will need to upgrade its freighter fleet over the next few years and proposals had been requested last year to establish a new carrier in eastern Russia.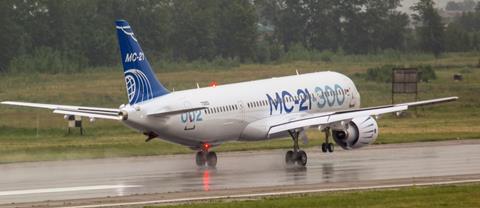 Deputy prime minister Yuri Borisov informed Putin during the conference that United Aircraft – which produces the Irkut MC-21 and the Superjet 100 – was burdened by substantial debts of Rb400 billion ($5.5 billion) which requires paying Rb30 billion in annual interest alone.
Restructuring of debts combined with corporate optimisation, in areas such as research and development, along with sale of non-core assets are part of a financial recovery programme newly adopted for the company, said Borisov.
"Implementation of the financial recovery scheme will allow [United Aircraft] to complete the investment stage of current aviation programmes and move on to increasing the serial production of new aircraft," he added.
Irkut obtained formal production approval from federal air transport regulator Rosaviatsia on 14 May to manufacture the Superjet 100, following consolidation of the former Sukhoi Civil Aircraft line.
Borisov says the United Aircraft recovery scheme provides for increased production capabilities for the MC-21 as well as the regional Ilyushin Il-114 turboprop, manufacture of which is being resurrected.
He adds that the Superjet 100 is undergoing an import substitution programme, to increase the proportion of domestically-built components, and this will be accelerated to bring the revamped version forward by a year to 2023.
But Borisov is also urging further assistance for United Aircraft through a reduction of penalties for shortfalls in meeting state contracts.
The recovery scheme, he says, will "create conditions for sustainable development of the aviation industry".
Borisov has been newly quoted by several Russian media as having told television station Rossiya-24 that the carrier Red Wings would be allocated up to 60 Superjet 100s and 16 MC-21s by 2024.
During the conference Putin noted that the state subsidises regional air transport by Rb8 billion each year, supporting development of routes that avoid transit through Moscow.
He told participants to examine whether there were opportunities to expand this programme and "tweak" it to prioritise routes on which Russian-built aircraft are operated.