Russian prime minister Mikhail Mishustin has outlined additional support measures for the country's aviation industry, as crucial aircraft programmes edge towards serial production.
At a governmental meeting on 31 August, Mishustin highlighted the maiden flight – two days earlier – of the modified Yakovlev SJ-100, a version of the Superjet 100 with a higher proportion of domestically-sourced components.
"This resulted from the co-ordinated actions of designers and engineers, workers and test pilots who brought advanced ideas and developments to life," he said.
Mishustin stated that the aviation sector was "extremely important" for achieving "technological sovereignty" and contributing to economic growth, and added that the government would "change the rules" on providing subsidies to the industry from the federal budget.
This measure is aimed particularly at expanding production of the Yakovlev MC-21 twinjet, he said, and would enable a number of manufacturing firms to access Rb20 billion ($207 million) for technical re-equipping. Subsidies will be limited to companies with less than 25% foreign participation.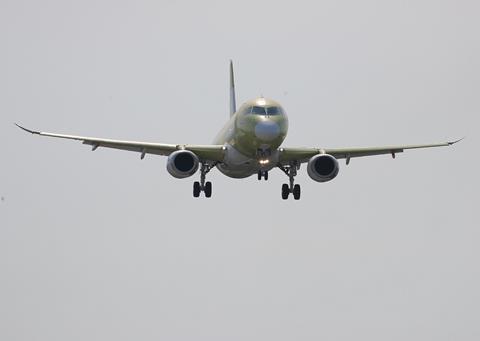 "We will also extend for the current year the programme for subsidising interest rates on loans that companies use to purchase Russian aircraft," said Mishustin.
This would provide financing for the lease of more than two dozen aircraft, including Superjets and helicopters.
Mishustin said the government intends to simplify airlines' ability to obtain spare components and equipment, with the formation of reserves, and secure partial compensation for the cost of fleet maintenance.
"We hope that such measures will speed up the modernisation of the domestic aviation sector," he added.
Yakovlev intends to commence serial production of the domestically-built MC-21 and SJ-100 next year.
State technology corporation Rostec says domestic manufacturers need to supply Russian airlines with more than 1,000 civil aircraft by the end of the decade.
"Production is being updated and expanded in record time, and the staff is growing," it states.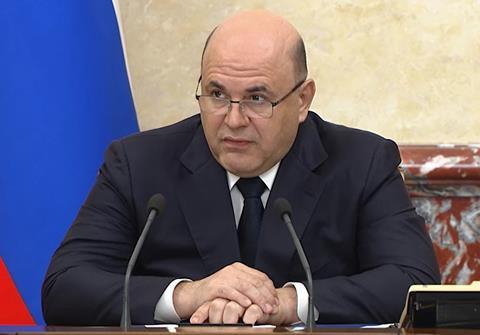 Rostec intends to produce 20 SJ-100s annually from next year, with Aeroflot receiving 34 aircraft by 2025 while east Russian operator Aurora will take eight over 2024-26. Rostec expects 142 SJ-100s to be built by 2030.
The government opted to develop the SJ-100 in 2019, before the imposition of international sanctions, as part of an import substitution strategy. Some 40 imported systems have been replaced by domestic versions, including the avionics, landing gear, auxiliary power unit, and air conditioning, while the fuselage has been modified to simplify production and maintenance.
Six initial production MC-21s, fitted with Aviadvigatel PD-14 engines, will be delivered to Aeroflot Group in 2024. Yakovlev plans to supply 270 MC-21s to Russian carriers by 2030, and Rostec says work is continuing to substitute imported equipment on the twinjet type.
Rostec says the manufacturer had to "abandon" the US-built Pratt & Whitney PW1400G engine in favour of the PD-14, and over 80 foreign assemblies as well as composite materials have required alternative domestic sourcing. It describes the MC-21 as "perhaps the most sanctioned civil aircraft" in the industry's history.
While the MC-21 has already flown with PD-14 engines, Rostec says a large number of imported systems have since been replaced, and testing of the import-substituted version will commence in November, with certification planned for 2024.
It adds that there are plans to "expand the family" of MC-21s, "including a long-haul version", without elaborating. The basic models comprise the MC-21-300 and -310 but the manufacturer has previously indicated potential for a -200 shrink and a -400 stretch.
To meet interim capacity demands Rostec has turned to the Tupolev Tu-214, currently produced in small numbers as specialist government platforms.
Rostec says the Tu-214 will "lend a shoulder" to the industry and "support uninterrupted passenger transport" during this critical period. Production will be increased to 10 per year, rising to 20, with 70 aircraft built by 2030. The company claims there are provisional agreements with Aeroflot, UVT Aero and Yakutia for Tu-214s and estimates potential demand for the twinjets at over 100 across the next seven or eight years.