Russian researchers are conducting windtunnel tests of a modified 'flying wing' concept aircraft for potential application to a future mainline or regional airliner.
The concept model – build on a scale of 1:33 – features an "unconventional" configuration, says the Central Aerohydrodynamic Institute, with engines located above the central fuselage.
Testing has been carried out under a ministry of industry and trade programme for next-generation aircraft design.
"The purpose of the experimentation is to determine characteristics of the air intake for the 'flying wing' aircraft in the take-off and landing phases," the institute says.
It points out that the concept has the advantage of shielding the noise of the powerplants.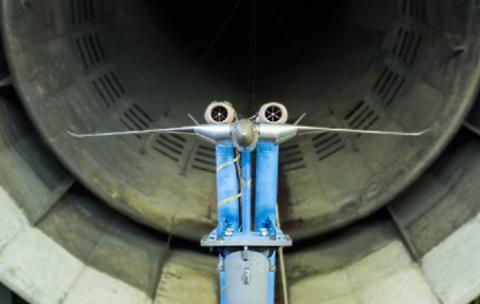 "The installation of nacelles on pylons at the tail of the centre section leads to severe unfavorable aerodynamic interference," says aircraft aerodynamics department head Ivan Chernyshev.
He says this demanded "increased attention" to the design of this area to find a solution.
"Another important task is to ensure acceptable performance at high angles of attack, at low flight speeds," he adds, including suitable airflow to the engines' air intakes.
The model has been tested in a subsonic windtunnel and further experiments will be carried out in a transonic windtunnel.
"It is assumed that passengers can be comfortably accommodated on two decks of the 'flying wing'," the institute says, enabling it to transport higher passenger loads and improve fuel efficiency. The institute adds that the concept is "one of the most promising configurations" for future subsonic aircraft.