Safran is confident that it will restore profitability to its aircraft interiors division following efforts to transform the business and given the returning market interest in seat products.
The aerospace company turned in a first-half operating loss of €100 million ($111 million) for its interiors division – contrasting with its profitable propulsion and equipment arms.
Safran's interiors division comprises cabin and seating businesses.
Group chief financial officer Pascal Bantegnie, speaking during a 27 July briefing, said interiors sales of €1.2 billion were still 41% below the pre-crisis 2019 level, and that it had "not yet recovered in terms of sales".
Cost is a priority for its cabin business, he states, while the focus for the seats business is execution.
Business-class seat deliveries nearly halved over the six months, to 436 sets, but Bantegnie says shipments are "expected to resume later in the year once certification is reached on some programmes".
The €100 million loss, he states, includes a one-off €33 million depreciation linked to impairment of obsolete inventory as well as losses on two seat programmes facing engineering and certification issues.
"Clearly the performance recovery takes longer than anticipated," he says.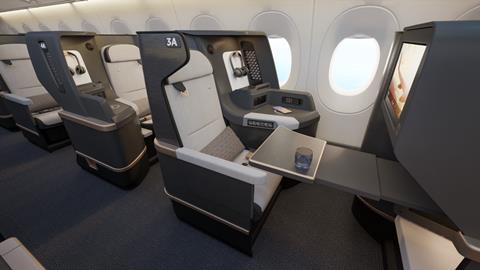 Safran is expecting the cabin business to be in "positive territory" for the full year, and the company has a fourth-quarter target for operating break-even in the seat activity.
Chief executive Olivier Andries says the two business streams are facing individual issues.
"Market-wise this segment of activity is lagging behind propulsion and equipment," he says, pointing out that airlines' appetite for cabin refit has been low during the pandemic.
Safran has been addressing cost in the interiors business by transferring activities from US and European sites to Mexico and Tunisia. "Low-cost content of the cabin is increasing over time," says Andries.
He says the company has also "completely renewed" its seating product line over the last three years, and customers have shown strong interest.
But while the manufacturing rationalisation is "behind us", he says, the company still needs to "fully master the development costs".
"Today this is still ahead of us," says Andries. But he adds that the aftermarket in this sector has returned to pre-crisis levels, and that the second half should benefit as a result.