Airbus's widebody delivery profile for the year will be heavily backloaded to the second half, with seat supply among the bottlenecks with which the airframer is having to cope.
The manufacturer handed over just five A350s in the first three months of the year – to Starlux Airlines, Turkish Airlines, China Eastern Airlines, and Singapore Airlines.
Airbus chief Guillaume Faury acknowledged, during a 3 May briefing, that the A350 delivery situation was "weak" in the first quarter and will remain so in the second.
Deliveries of the twinjets will be backloaded "more than average", he says, but he says the delivery profile is "not necessarily linear" and depends on various constraints.
He stresses that the source of the issue is supply, and that it is "not coming from demand".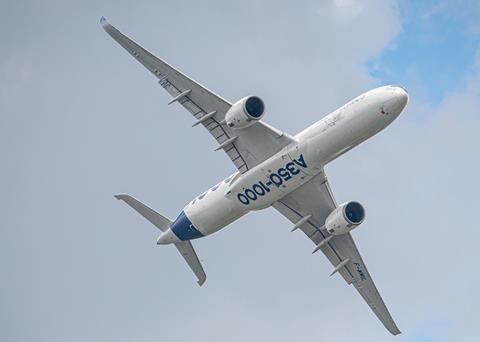 "Seats are now on the list of supplies that arrive late," he says, with "high-end seats in particular" affected. "It's one of the contributing factors for delays we're having on the widebodies."
Production of A350s is currently at around six aircraft per month, and the company is aiming to increase this gradually to nine by the end of 2025.
"[We're] not justifying the delays or the profile of deliveries of widebodies only by the seats, " Faury states, pointing that the backloading originates from "a number of supplies including seats – but not limited to seats".
The backloading profile is not related to financing, he adds.
Airbus delivered six A330s over the first quarter. The monthly production rate of the A330 is half that of the A350.