Russian airframer Irkut has delivered the second SSJ-New aircraft intended for strength testing, transferring it from its Komsomolsk production centre to Novosibirsk.
Structural certification tests will be carried out at the Siberian aeronautical research institute SibNIA.
The shipment includes the fuselage and parts of the wing. The SSJ-New is a structurally-modified version of the Superjet 100, designed to be powered by the Russian-build Aviadvigatel PD-8 engine, and features changes to its landing-gear.
Irkut shipped an initial test airframe to the Central Aerohydrodynamic Institute in Moscow in July last year.
Researchers at SibNIA aim to complete the first static tests on the second airframe in autumn of this year. These will include applying various loads to the wing, fuselage, undercarriage and pylon.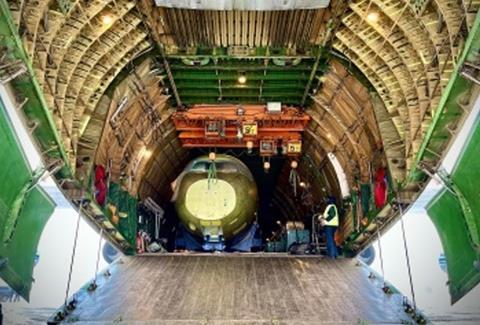 "Results obtained, along with the results of flight tests, will be used for certification of the aircraft in its new import-substituted guise," says Irkut general director Andrei Boginsky.
He says the airframer expects to receive regulatory approval for the design changes by the end of 2023.
SibNIA director Vladimir Barsuk says the organisation has been working with the Superjet 100 since 2007, conducting life-cycle tests of the original model.
For assessing the SSJ-New an updated and automated control system has been developed in order to carry out a wide range of tests, he adds.