Over 30 expressions have interest have been submitted for troubled air-launch specialist Virgin Orbit, with several looking to continue the company's operations.
Virgin Orbit filed for US Chapter 11 bankruptcy protection about a month ago, weeks after suffering a satellite launch failure during its inaugural sortie from the UK's Spaceport Cornwall in January.
The bankruptcy court is overseeing the sale process, the final bid deadline for which expires later this month.
Court filings also show that Virgin Orbit has been sent a notice to lien – a notification of consequences of non-payment – over outstanding invoices, by the maintenance and modification firm BAR Aviation which support the company's Boeing 747-400 air-launch platform.
The notice of lien has also been sent to JACM Holdings, which owns the 747 having acquired it in October 2015. According to the 4 May filing, the invoices amount to around $439,000.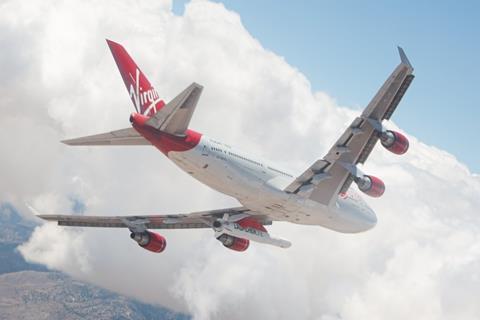 Virgin Orbit says "multiple parties" have proposed to continue operating the business as a going concern, and retain current employees.
"We believe [the quality of interest] reflects the innovative ideas and hard work the team has put into the development of this unique system," says chief executive Dan Hart.
But Virgin Orbit stresses that there are "no assurances" that the successful bidder will be among those seeking to ensure the business continues, or that holders of the company's stock will see a return.
Virgin Orbit is, however, progressing toward its next space-launch, intended later this year from the Mojave space port in California.
Its investigation into the cause of the January launch failure determined that a displaced filter affected the air-dropped rocket's engine, triggering a loss of thrust. The rocket and its satellite payload subsequently fell into the Atlantic Ocean.
Virgin Orbit carried out a series of nine tests to verify a modification aimed at addressing the fault with a redesigned filter.
"All potentially credible scenarios were investigated," it states. "The modified design, that has now been verified through test, has been incorporated into the company's next rocket."