US start-up Skyryse has raised a $200 million in funding to develop a touchscreen tablet-based flight automation program that would allow "anyone to fly anywhere in any aircraft".
Robinson Helicopters plans to integrate the firm's "FlightOS" system into its single-engined R66 light helicopter, Skyryse adds on 27 October.
The Hawthorne, California-based start-up also says "five of the world's largest fixed-wing and rotorcraft" manufacturers will purchase its technology. Skyryse does not name the companies.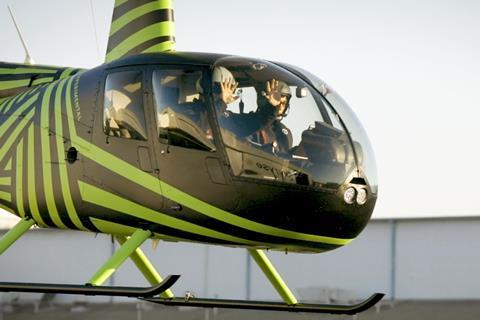 The FlightOS software, combined with a touchscreen tablet, joystick and fly-by-wire hardware, can replace conventional aircraft cockpit controls, it says.
"Pilots can learn to fly a Skyryse-equipped aircraft in minutes, instead of weeks, and the system can safely fly in zero-visibility conditions," the company says. "With Skyryse, the pilot's workload is dramatically reduced, freeing them to focus on the most-critical flying decisions."
The fly-by-wire technology can restrict aircraft to operate within established flight envelopes, provide terrain and obstacle avoidance and "safely land any aircraft in the case of engine out".
"Just last month, a Skyryse-enabled helicopter autonomously entered an auto-rotation and controlled the descent while gliding to earth without engine power or pilot intervention", the company says.
Skyryse also wants to help novice pilots fly aircraft.
"We're on a mission to empower anyone to fly anywhere in any aircraft as safely as the most-experienced pilots in the world," says chief executive and founder Mark Groden. "Our technology will usher in a new era of mobility, from fighting fires in remote areas to relieving traffic in crowded cities."
To help with Federal Aviation Administration certification, Skyryse hired Michael Huerta, former FAA administrator, and Chris Hart, former chairman of the National Transportation Safety Board, as advisors.
Skyryse says it has raised $250 million since its founding in 2016.