Russian airframer UZGA's LMS-901 Baikal has been undergoing high angle-of-attack and spin modelling at Moscow's Central Aerohydrodynamic Institute, as part of certification preparation.
The Baikal is a single-engined utility aircraft intended for regional connectivity to remote areas, replacing older types such as the Antonov An-2.
As part of its development, models of the aircraft are being examined to determine behaviour in supercritical flight conditions, the institute states.
It has already been subjected to low-speed aerodynamic testing in windtunnels and exploration of ground effects during take-off and landing.
The institute says its current primary task is computational studies of the Baikal when reaching a high angle-of-attack, up to 30°, and slip angles of 25°.
It adds that the model has also been tested in spins, with up to 90° angle-of-attack.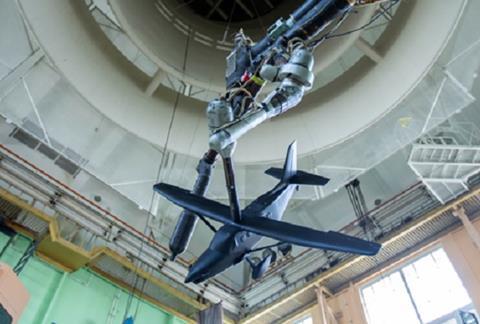 Aerodynamics department head Alexander Kornushenko says certification of the Baikal is planned for this year.
"It is necessary to confirm the maximum permissible angle-of-attack in flight," he says. "In order to do this during flight tests, the transition to critical modes is first simulated in an aerodynamic set-up on the ground."
He adds that this enables test pilots to be prepared for any atypical behaviour of the aircraft, with the institute providing recommendations on piloting techniques for stall prevention and spin recovery.
Analysts have also looked at improvement in the aircraft's broader aerodynamic design, to reduce turbulence at the wing-fuselage mating point and struts, and modification of the flaps.