Researchers have completed the latest round of windtunnel testing for the Irkut SSJ-New, which is fitted with Aviadvigatel PD-8 engines.
The work by Moscow's Central Aerohydrodynamic Institute focused on the twinjet's aerodynamic characteristics with the PD-8 nacelles.
Irkut's Superjet 100 is fitted with the Franco-Russian PowerJet SaM146 but the SSJ-New is intended to make use of a greater proportion of domestically-built components including its powerplants.
"This is an important milestone on the way to SSJ-New flight testing, which we expect to start as early as next year," says Irkut general director Andrei Boginsky.
Testing of a prototype PD-8 will take place using a modified Ilyushin Il-76 before the engine is integrated on an SSJ-New airframe.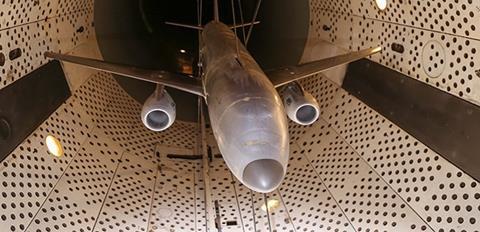 Boginsky says the aerodynamic properties of the PD-8 "have been confirmed" through the windtunnel analysis, while the institute's deputy head of aircraft aerodynamics, Ivan Chernyshev, says the characteristics at least match those of the SaM146.
Testing was conducted at speeds of Mach 0.75-0.82 with flow visualisation at the wing, pylon and nacelle interfaces to check for "unfavourable interference", the institute states.
"Visualisation showed no adverse effects in the area of engine nacelle installation," it adds.
Researchers also carried out work to determine the optimum fit for vortex generators on the PD-8 nacelles. Further analysis, set to take place in spring next year, aims to confirm calculations for improving wing lift.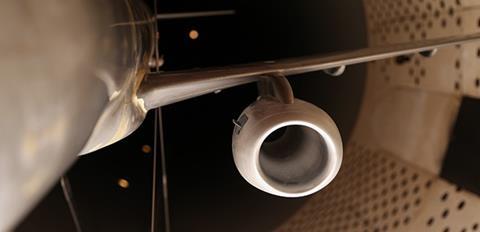 Russian prime minister Mikhail Mishustin stated at a recent high-level meeting that, within two years, the aerospace industry will need to produce some 50 PD-8 engines.
The government is to allocate over Rb44 billion ($730 million) in federal funding to United Engine for powerplant manufacture, he says.
This effort will also cover production of 20 Aviadvigatel PS-90As for Tupolev Tu-214s and 14 PD-14s for initial Irkut MC-21s.
Mishustin says research work will also need to progress on the high-thrust PD-35 engine, in order to complete development by the end of 2024.
In order to support the current Superjet 100 fleet, state technology firm Rostec is establishing a pool of 40 replacement SaM146 engines as part of a strategy to build a comprehensive aftersales network for operators of the type.
"A necessary stock of components for the powerplants has also been created," it states.
Rostec says the engine service network includes two major spares centres, maintenance training facilities, and customer support. The number of technical bases of carriers which are able to handle Superjets is expanding, it adds, and this will reduce the time and cost of servicing the twinjets.