French aeronautics firm Safran is aiming to ensure current powerplants are capable of operating wholly on sustainable aviation fuel, through a strategic partnership with fuel supplier TotalEnergies.
The two sides are to establish the partnership to decarbonise the aviation industry through joint development of technical and commercial initiatives.
Sustainable aviation fuel will play a "key role" in the two sides' approach to reducing aviation carbon dioxide emissions, they state, in line with targets to reach net zero emissions by 2050.
"In the short term, the partnership aims to make current engines compatible with fuel containing up to 100% sustainable [content]," says Safran.
It adds that, with this compatibility confirmed, the companies will explore optimisation of engine and fuel efficiency as well as environmental performance.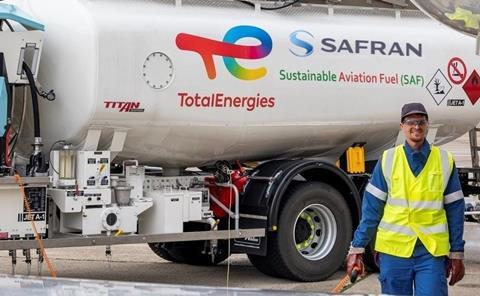 "Our ambition is to develop breakthrough technologies for ultra-efficient engines that are 20% more fuel-efficient than the current Leap engine and 100% compatible with sustainable fuels," says Safran chief executive Olivier Andries.
Safran's agreement with TotalEnergies will concentrate on research and innovation to develop "technological bricks", validated with ground and flight tests of demonstrator engines.
It will also focus on decarbonisation of Safran aircraft and helicopter engine tests in France, through the supply by TotalEnergies of sustainable fuel.
Safran says the collaboration could also involve adapting systems to sustainable fuels or developing new battery systems for electric motors.
"This strategic alliance will contribute to the emergence of a French value chain for sustainable aviation fuel and electric aircraft," insists TotalEnergies chief executive Patrick Pouyanne.
"We believe that cooperation among all aviation industry players is needed to achieve the objectives of the energy transition to reach carbon neutrality."