Tecnam is aiming for certification of its P2012 short take-off and landing variant next year, following finalisation of the aircraft's configuration.
The Italian company undertook preliminary flight-testing of the P2012 STOL earlier this year.
It has developed the aircraft specifically to serve the "most demanding" commercial airports, it says, claiming that this market niche has been left largely unaddressed.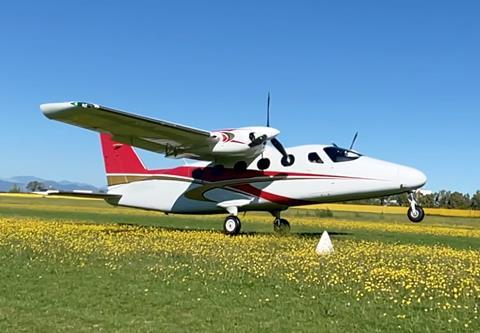 The nine-seat twin-engined aircraft will comply with the latest certification criteria, the company adds, offering a maximum take-off weight of 3.68t.
Tecnam says that, at this weight, the P2012 STOL requires a take-off run of 275m, and a landing distance with obstacle clearance – at maximum weight of 3.63t – of 360m.
"For decades, the STOL aircraft market has been left undeveloped and unsupported, leaving operators with very few options for supporting and expanding their operations," says managing director Giovanni Pascale.
He says the company's aircraft "grants accessibility" to the "most remote and challenging" airports.
Tecnam adds that the aircraft will feature Garmin G1000 NXi avionics, and is reconfigurable, able to be changed quickly to a special-purpose or cargo transport.