Conversion specialist EFW is to establish an Airbus A330 passenger-to-freighter modification facility in Istanbul, under a co-operation agreement with maintenance firm Turkish Technic.
The agreement will establish the first third-party conversion site for EFW's A330P2F programme.
EFW says the first A330 modification is scheduled to take place in the third quarter of next year.
"We have a growing [passenger-to-freighter] order book which mirrors a strong market demand for Airbus freighter conversions," says chief executive Jordi Boto.
He claims the A330 programme is being "increasingly considered" as the "preferred" platform in its category.
EFW is a joint venture between Airbus and ST Engineering. Its A330 conversion programme covers both the -200 and -300 variants of the twinjet.
The modified -200 is able to transport up to 61t while the larger -300 has capacity for 63t.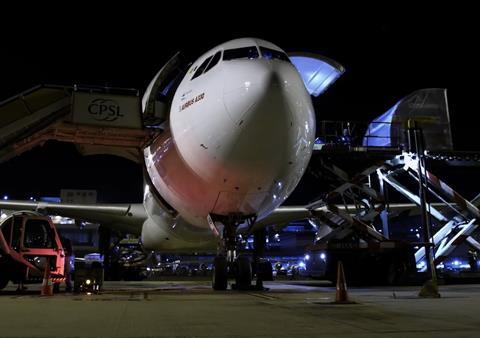 "Passenger-to-freighter conversions require a combination of industry-leading expertise, structural skills and operational excellence," says Turkish Technic chair Ahmet Bolat.
"With extensive know-how and close collaboration with suppliers, we are always well equipped to provide technical services and solutions for our customers."
A330P2F conversion involves multiple modifications including de-activation of doors, installation of window plugs, the fitting of reinforced floors, system and interior updates, and adding a main-deck cargo door and loading system.
EFW launched the A330P2F programme a decade ago and around 20 aircraft have been delivered.
Among the customers signing up for the modifications are DHL, MNG Airlines, ATSG, EgyptAir, CDB Aviation, Qantas and MasAir.
EFW is expanding its conversion network to provide additional capacity for both single-aisle and twin-aisle freighter modifications, aiming to offer some 60 slots per year by 2024.