Ukrainian legislators are considering a bill to privatise the state aircraft manufacturing plant at Kharkiv, following an adoption recommendation to parliament by the economic development committee.
The bill was proposed by a number of politicians, notably national security committee member Igor Kopytin.
He says the recommendation, on 20 October, is "another step" to "saving" the country's strategic aircraft industry.
"We need decisive steps that will create the conditions for resuming such important businesses for the Ukrainian economy," he adds.
Kopytin says the Kharkiv aircraft plant has accumulated Hr4.5 billion ($170 million) in debts but has assets of only Hr2.5 billion.
The plant has not produced any aircraft since 2015 despite there being "significant demand" for the Antonov An-74, he adds, and the bill aims to provide a path to attracting a strategic investor intent on resuming serial aircraft assembly.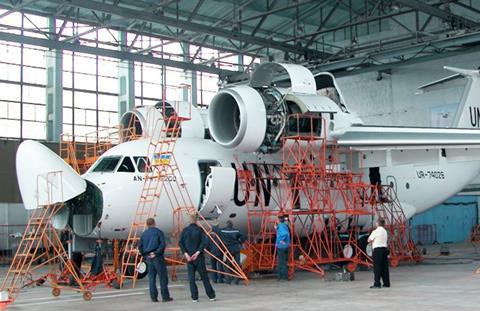 Kopytin says the aircraft lines require a high proportion, around 60-70%, of components manufactured in Russia – but the political split between Ukraine and Russia means the parts cannot be obtained.
Replacing these components with parts sourced elsewhere would take three or four years, and cost around $80-150 million.
The draft legislation states that, upon completion of the privatisation, the buyer would hold the type certificates of various aircraft models and the right to develop, manufacture, modify and maintain them.
This includes continuation of production of the An-74 as well as the An-140 turboprop.
Ukraine's budget committee had previously submitted a formal opinion on the bill pointing out that the privatisation would allow the write-off of the plant's debts, and that this could lead to loss of contributions to the state budget.
The committee noted that the plant's debts included arrears on interest-free loans for construction of three An-74s.
It highlighted concerns over some provisions of the bill – including the write-off of debts – arguing that they were not consistent with the Ukrainian budget code, and recommended that several articles of the bill be brought into line with the code during its finalisation.