Russian powerplant specialist United Engine has carried out initial testing of a pulse-detonation rocket motor which has potential application to orbital spaceplanes or hypersonic aircraft.
Pulse-detonation propulsion combusts fuel and oxidizer using detonation waves, with relatively few mechanical moving parts, offering a more efficient thermodynamic cycle than conventional gas turbines.
United Engine's Lyulka design bureau – part of its Ufa-based UMPO division – has established a specific development project for such powerplants.
Russian state technology firm Rostec says the bureau has completed the first stage of tests for a demonstrator engine.
"In some operating modes the powerplant demonstrated up to 50% increase in specific thrust compared with traditional engines," it adds, enabling aircraft range and payload to rise by a factor of 1.3-1.5.
Rostec envisions the design being applied to orbital spaceplanes and other future-generation aircraft operating at supersonic and hypersonic speeds.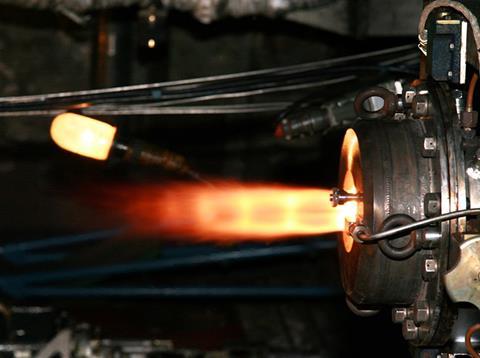 Lyulka design bureau general director Evgeny Marchukov says the "simplicity" of the architecture enabled the organisation to apply technologies developed for earlier engines.
"This provides a great commercial and economic advantage," he adds.
United Engine says aircraft equipped with pulse-detonation powerplants will have "better flight dynamics and manoeuvrability".
The Lyulka pulse-detonation project was selected in 2016, and awarded a grant, by a foundation linked to Moscow's Skolkovo innovation centre which specialises in commercialisation of advanced technology.
United Engine subsequently showed off a model of the powerplant at an international military technical forum in 2017.
It carried out work to study the prospects of using high-frequency valveless technology in aircraft engines using a two-stage fuel combustion and gas-dynamic resonator. This enabled it to test an early pulsating engine using a kerosene-air fuel mixture with average thrust of over 100kg and 10min duration.