Ural civil aviation plant UZGA's multi-purpose LMS-901 Baikal, the utility aircraft intended to replace the Antonov An-2, has become airborne for the first time.
The aircraft briefly lifted off the runway during a series of tests over the course of 14-18 January.
Its developers had conducted low-speed taxi checks, before progressing to high-speed ground runs, including lifting of the tail-wheel.
This was followed by three sessions during which the aircraft lifted off the runway as the calculated take-off speeds were verified.
Ground tests of the LMS-901 showed the single-engined aircraft has "good stability characteristics", with no spontaneous drift from its course, says chief designer Vadim Demin.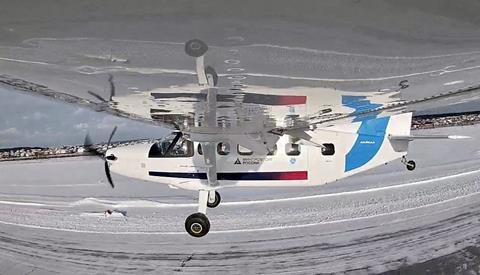 Ekaterinburg-based UZGA's Baikal Engineering has assembled the initial aircraft, which is being developed with the backing of the Russian ministry of trade and industry.
Data obtained from the initial LMS-901 checks, as well as comprehensive documentation on the aircraft's design, will be collated and submitted shortly to Moscow Zhukovsky's Gromov flight research institute, says UZGA, ahead of formal flight testing of the prototype.
Russian deputy trade minister Oleg Bocharov, speaking during a visit to Voronezh on 20 January, stressed that the test was "not an official flight", because the scientific institute had yet to give the go-ahead.
But he adds that the aim is to conduct the maiden test flight of the nine-seat aircraft by the end of the month.
The testing will initially be conducted with the General Electric H80 engine but Bocharov says operators will also be offered the choice of a domestically-produced powerplant, the Klimov VK-800.
Regional aircraft connectivity, he says, is "very important" for the country and the LMS-901 is intended mainly for local carriers, notably those in areas of adverse climate.