San Francisco-based autonomous aerial vehicle specialist Elroy Air has unveiled a pre-production model of its vertical take-off heavy cargo carrier, the Chaparral C1, which is capable of lifting 140-230kg and transporting the load across ranges up to 260nm.
Elroy Air says it has secured agreements for over 500 aircraft from the commercial, defence and humanitarian sectors.
US regional carrier Mesa Airlines has signalled intent to take 150, and up to 100 will go to humanitarian support firm AYR Logistics.
Chief executive David Merrill describes the Chaparral as a "first of kind" autonomous air cargo system that will become an "important part of the future of express logistics".
"It is built for full end-to-end automation, and it will safely and efficiently make express shipping possible in thousands of new places," he claims.
"It's a delivery drone that's faster than ground transport and lower cost than today's traditional aircraft."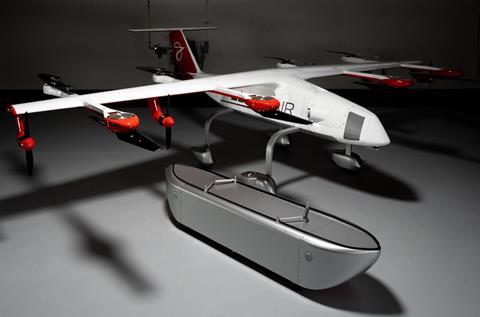 The composite high-wing Chapparal, a prototype of which was flown in 2019, has eight vertical-life fans and four distributed electric propulsion units for forward flight.
It features a lightweight aerodynamic cargo pod that is lowered from the aircraft after landing.
"One of the reasons why this is a moment to deploy the Chaparral system is that the market really requires it," says Mesa Airlines chief Jonathan Ornstein.
"We're not even creating a market. We are answering a demand that exists in the market today that is currently unanswered.
"We are increasingly seeing the demand for same and next-day delivery, but so many rural communities have been cut off from the national transportation system. Pilot shortages and environmental regulations make this even more challenging."
AYR Logistics provides assistance to various agencies including the United Nations and the World Food Programme.
"What aid agencies spend on transportation is money that they're not spending on food, medicine and other emergency supplies," says AYR chief development officer Stephen Lyons, adding that the Chaparral is a "leap" in terms of load-carriage and range.
"Moving to unmanned, aerial cargo vehicles will make a huge difference to our cost structure and the risk profile of our operations."