US government sanctions on Russian entities have expanded to cover aerospace firm United Aircraft, although the government is allowing export and provision of services and technology aimed at ensuring civil aviation safety.
As part of its economic response to the Ukrainian conflict, the US Department of the Treasury is directing sanctions against the company which manufactures a range of civil and military types.
The Treasury says United Aircraft is "critical" to the Russian military's ability to procure, maintain and replace aircraft, and that sanctions will "weaken" the aerial offensive against Ukraine.
Russian state technology firm Rostec has been consolidating the aerospace industry by combining various organisations – including United Aircraft, Sukhoi and RSK MiG – under a single corporate structure.
United Aircraft includes Irkut, the producer of the MC-21 and Superjet 100 passenger models, but also such design organisations as Tupolev, Ilyushin and Beriev.
Tupolev develops the strategic Tu-160 bomber as well as Tu-214s for the Russian government, and its passenger aircraft are seen by the government as a way of obtaining more capacity in the wake of sanctions on the air transport sector. The affiliated Kazan manufacturing facility KAPO also comes under the new US sanctions.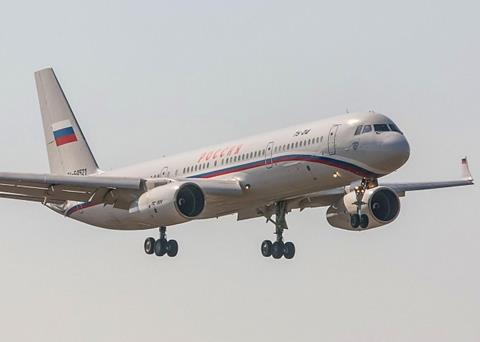 The sanctions cover Ilyushin, which produces the Il-76 military transport, as well as Beriev, which developed the Il-76-based airborne early warning aircraft designated the A-50 as well as the amphibious Be-200 firefighter.
Powerplant manufacturer United Engine – which offers a range of products for civil, military and space applications – comes under the new restrictions.
Sanctions imposed on United Aircraft also go beyond immediate airframe production, and will include the Gromov flight-research institute – which serves as a test centre – and the leasing company Ilyushin Finance. Suppliers such as Tekhnodinamika, which builds a large number of aerospace systems, and a number of Irkut affiliates are similarly affected.
But the Treasury's Office of Foreign Assets Control has issued a general licence which authorises "certain transactions" involving "blocked entities" which are necessary to ensure the safety of civil aviation.
This licence applies to aircraft registered "solely outside" Russia, the Treasury states, while the technology and services covered must be directed to aircraft used exclusively for civil aviation purposes.